Posted by Model Chic on 24th Aug 2023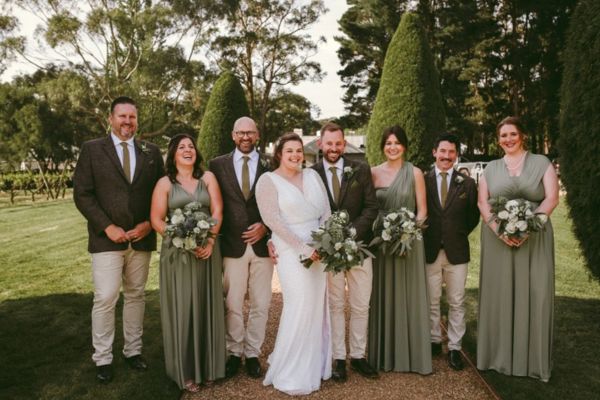 Planning a wedding is exciting but, let's face it, it can also be a tad overwhelming. With sustainability and ethical practices becoming the talk of the town, who wouldn't want their big day to have a hint of eco-friendliness? The good news is that you can totally strike a balance between sustainable choices and drop-dead-gorgeous fashion. And where better to start than with the unsung hero of weddings: bridesmaids dresses!
1. Conscious Fabrics Steal the Show
When we talk about sustainable bridesmaids dresses in Australia and beyond, the fabric plays a pivotal role. Many designers now favour fabrics that are both kind to our Earth and utterly chic. They not only have a minimal environmental impact but also drape beautifully, ensuring your bridesmaids shine without the planet dimming.
2. Infinity Dresses: The Ultimate Wardrobe Wonder
Infinity dresses are not just a trend; they're a revolution. These are dresses designed to be worn in various styles. Twist it, turn it, wrap it; an infinity dress molds as per your mood. Not only are they perfect for bridesmaids with diverse body types, ensuring everyone feels comfortable and looks fabulous, but they can also be worn again for other special events. So, they're not just gathering dust after the wedding. Its so easy to switch up the style and look of your infinity dress by styling the dress using brooches and buckles for different events.
With infinity dresses, your bridesmaids will have a frock that keeps on giving, whether it's for a dinner date, a night out with the girls, or another elegant event. Talk about value for money!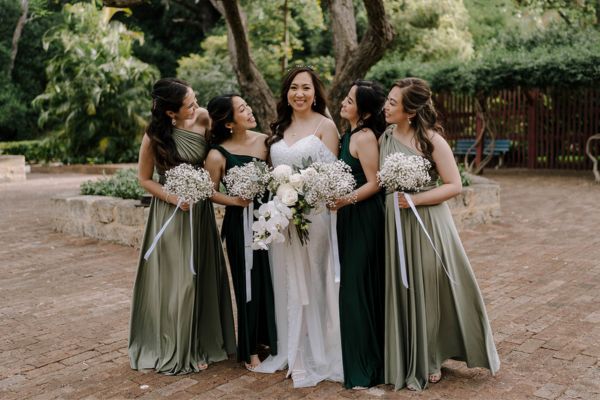 3. Reusability is the Name of the Game
Beyond the infinity and multiway styles, consider bridesmaids dresses that can be re-worn as they are. Opting for more timeless, classic cuts ensures that your bridesmaids will want to wear them again. After all, the more times a dress is worn, the better its environmental footprint.
4. Bridesmaids Dresses Australia: Keeping it Local
Supporting local Australian designers and brands can also make a difference. Not only are you reducing the carbon footprint (bye-bye, long-haul shipping!), but you're also supporting home-grown talent and ethical manufacturing practices. It's a feel-good choice in every sense.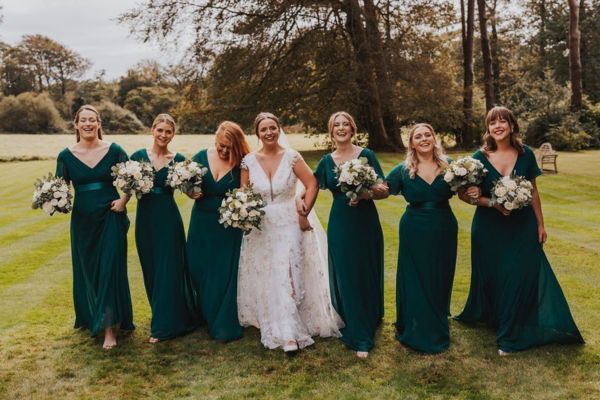 5. Making Conscious Decisions Without Compromising on Style
The best part about the sustainable bridesmaid dresses movement is that style isn't taking a back seat. Today's eco-friendly designs are as gorgeous, if not more so, than their less-sustainable counterparts. From breathtaking fabrics to incredible fits, being green has never looked so good.
To our lovely Australian brides and bridesmaids, the next time you're on the hunt for bridesmaids dresses in Australia, remember that making sustainable choices doesn't mean compromising on style. With options like infinity dresses and multiway dresses, you're not just making a fashion statement, but also a statement of love for our planet.
So, as you prepare to walk down the aisle, know that every choice counts. From the ring on your finger to the shoes on your feet, and of course, the dresses on your bridesmaids – let's make choices we can all be proud of.
Cheers to a future where every wedding showcases not just love between two people, but also love for our Earth. Now, isn't that a love story we all want to be part of? Cheers to sustainable celebrations and memories that last a lifetime!