Posted by Model Chic on 10th Feb 2023
Most Popular Colours for Mother of the Bride Dresses
The special day is accompanied by many essential considerations, including dressing the bridal party–the bride, partners and their entourages, maids of honour, bridesmaids, flower girls and page boys, and of course, the mother of the bride.
Like bridesmaid style etiquette, dressing the bride's mother has some new and welcome rules.
Instead of being expected to wear something matronly – often a jacket over a sheath dress, in uninspiring neutral or pastel shades- the bride's mother can now explore more fashionable, flattering, and personalised outfit choices and colours. The only out-of-bounds option is the bride's dress colour –a rule that's here to stay.
However, whether you're the mom, the bride, or the maid of honour, your mother-of-the-bride choices must resonate with the overall theme and bride and bridesmaid selections.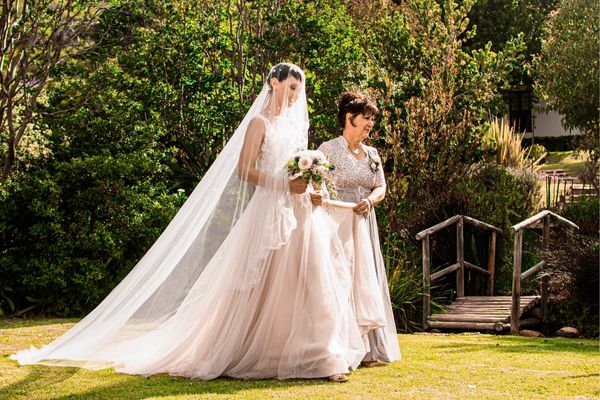 So, consider the following:
The bride: Always be guided by the bride and their outfit, style, and colour decisions. Note the level of formality and the overall tone. For example, is the wedding highly formal and traditional? Or is it a more casual barn, garden or beach event?
Based on these hints, you'll know whether to choose a glamorous cocktail dress or flowy summer outfit.
The theme: While the mother of the bride's dress need not match the colour scheme precisely, the shade should be harmonious. So, for the most appropriate choice, wait until after the bridesmaid dresses are selected, or ask for a fabric swatch.
Then, choose a complementary colour. For example, if the party's outfits are one or more shades of blue, choose a different but related shade – perhaps navy or midnight. If the bridesmaids wear black, choose an elegant grey or silver. If the bridesmaids are in gold, choose a darker or lighter shade of the same or a vibrant copper.
The venue and time: While rules have loosened and the bride's mother can now express them self more freely, ensure the outfit and shoes are appropriate for the venue and time of day.
Avoid strapless or high-cut options for highly formal, church or culturally strict weddings and black-tie evening ceremonies. At the same time, embrace the look for the beach or less formal, fun venues and warm summer days.
Long lengths are acceptable from noon onwards; otherwise, any length is fine if age and venue are appropriate. Consider sheer or lace sleeves for warmer weather to stay comfortable yet covered, elegant and glamorous. Alternatively, carry an elegant wrap to cover your shoulders or dress your outfit up if required.
Start sourcing the mother-of-the-bride dress at least three months before the wedding date to allow time for alternations and fittings. Usually, the bride's mother selects her dress before the partner's mother, to whom the same rules apply but with additional guidelines and limitations. So, ensure enough time for reasonable alterations here too.
In addition, consider the bride's choice of hair, make-up, and accessories to ensure complementary styles and looks.
Mother of the Bride Dresses: Trending Colours
The rules are simple:
Avoid the same colours as the bridesmaid's dresses to stand out.
Ensure a different colour from the spouse-to-be's mother, even if the difference is subtle.
While shades of navy, nude, and blush remain popular for mother-of-the-bride dresses, other trending options include:
Beautiful burgundy: While a bold, bright red is not recommended, deeper shades of burgundy and wine are elegant while suitably modest and widely flattering. Pair burgundy with black, silver, light gold, or nude shoes to keep the mother of the bride and her beautiful dress the stars.
Enchanting emerald: Another rich and resonant shade, emerald green is perfect to complement blacks, silvers, golds, and medium to darker shades of green and blue. In addition, don't shy away from equally rich fabrics, such as velvets and sequins.
Pair with black, nude, silver, gold or diamante shoes for a streamlined look from head to toe.
Perfect plum: A charming plum is an excellent choice for mother-of-the-bride dresses if the overall theme is pink, rose, or blush. This deliciously hued option is neutral yet elegant, chic, and perfectly modest for more mature ladies, with nude, pale pink, silver, champagne gold, or diamante footwear.
Delicate blush, grey, and pink: While mother-of-the-wedding couple dresses are no longer limited to pastels, there's nothing wrong with choosing the nuanced beauty of dove greys,light pinks, and the prettiest pale blushes.
This more muted colour pallet is ideal for black and silver themes and graduated shades of blue, grey, or pink. Team these delicate hues with equally light shoe colour choices, including nude, silver, pale gold or diamante.
Neutral navy: While navy is a distinct hue, it can be considered neutral relative to various adjacent colour schemes. There's also a good reason for the colour's popularity - it's flatteringly and timelessly stylish, complementing most skin tones.
Combine navy dresses, skirts or pants with black, navy, silver, or diamante sandals.
Bolder brights: If the wedding theme calls for it, why not be brave and opt for a sumptuous and regal purple or a striking teal? Combine with black footwear or the more neutral nudes, metallics, and diamantes.
The big day is a significant milestone for the bride's mother, so she should always look and feel almost as unique as the bride. However, regardless of increased mother-of-the-bride styling freedom, don't forget these wise words from the expert - stay "elegant, understated, and appropriate".
Rely on Specialist Bridal Outlets
Relying on experienced input from bridal boutiques, such as Model Chic, can make choosing mother-of-the-bride dresses easier and quicker.
Our chic, high-quality, and up-to-date range of mother-of-the-bride dresses in trending styles and colours and a wide choice of well-fitting sizes will make it a pleasure.
So, browse our gorgeous collection and place your order today, or contact us for more information.