Posted by Lauren H on 30th Sep 2021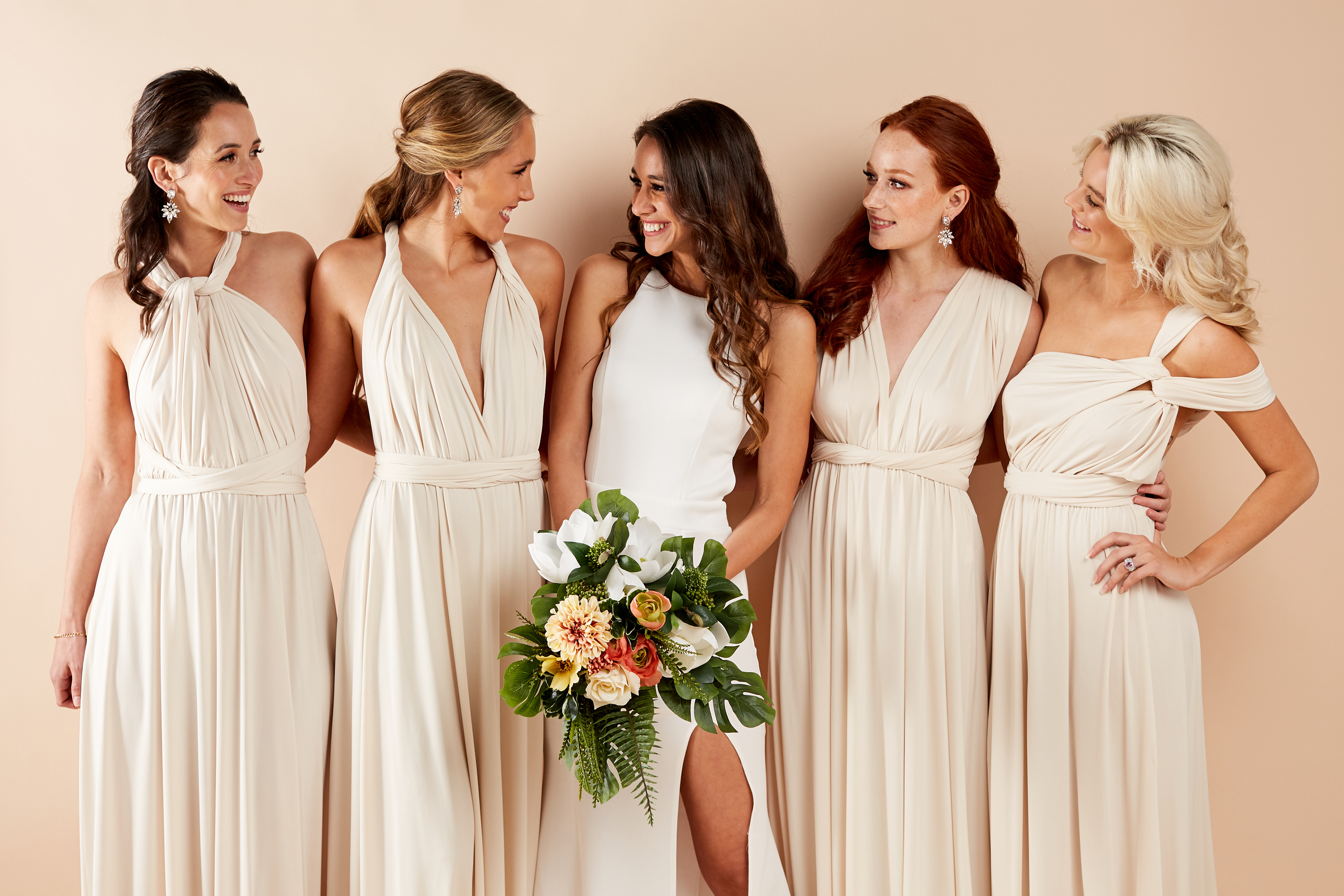 Saying yes to the dress is one of the most important decisions a bride can make when planning her wedding. From contemporary fit-and-flare dresses to stylish two-piece numbers, sometimes it is not finding the wedding dress that's the hard part, it's finding one that fits into your budget. But who says you can't find the modern wedding dress of your dreams without breaking the bank?
If you're looking for a chic wedding dress that's both budget-friendly and stylish, Model Chic Australia has plenty of affordable off-the-rack wedding dresses and options that will make you feel like your most gorgeous, confident, and beautiful self on your wedding day.
Whether you are looking for something more minimalist or glamorous, we've pulled together some of the top wedding dress trends that will make you (and your wallet) very happy!
2021 Wedding Trends
Bridal fashion is back and better than ever in 2021 after a year of putting weddings on hold - and brides are ready to put their best foot (or dress!) forward. From romantic ruffles to sexy splits, Model Chic Australia has stocked up on all of the hottest bridal trends so you can be both fashion-forward and timeless! So if you're planning a wedding, keep reading to see some of the hottest looks for 2021!
The Wedding Dress Looks for Summer
Minimalist Wedding Gowns with Back Cutouts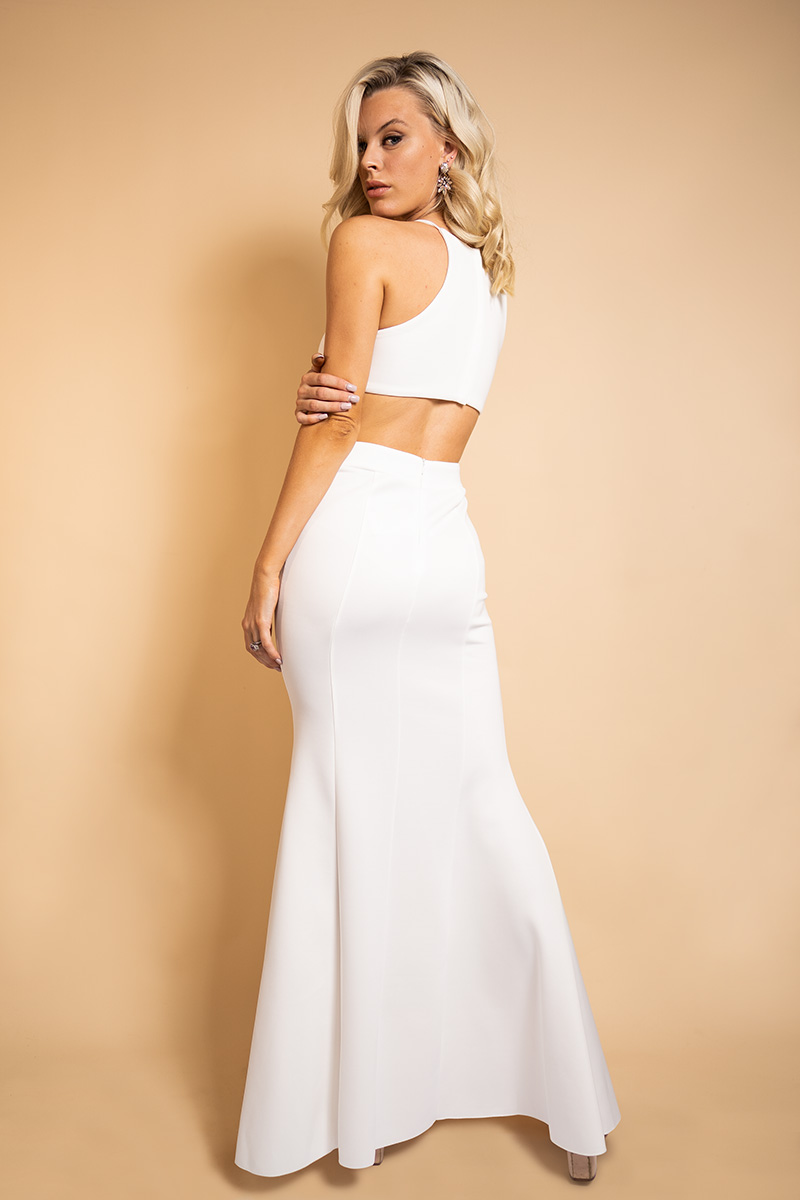 Whether it's at an art gallery or on a city rooftop, gowns with geometric back cutouts are a trend that is here to stay for years to come! A dress like the stunningly beautiful April Sleeveless Split Formal Dress in Ivory is only $165 and features a sleeveless fit-to-flare silhouette with a lower back cutout. We personally love this cutout because, from the back, it gives the illusion of a two-piece set while from the front you have a classic, elegant wedding dress. This look would pair perfectly with clear strap heels and a metal arm cuff to add even more flair.
Contemporary Ruffled Wedding Dresses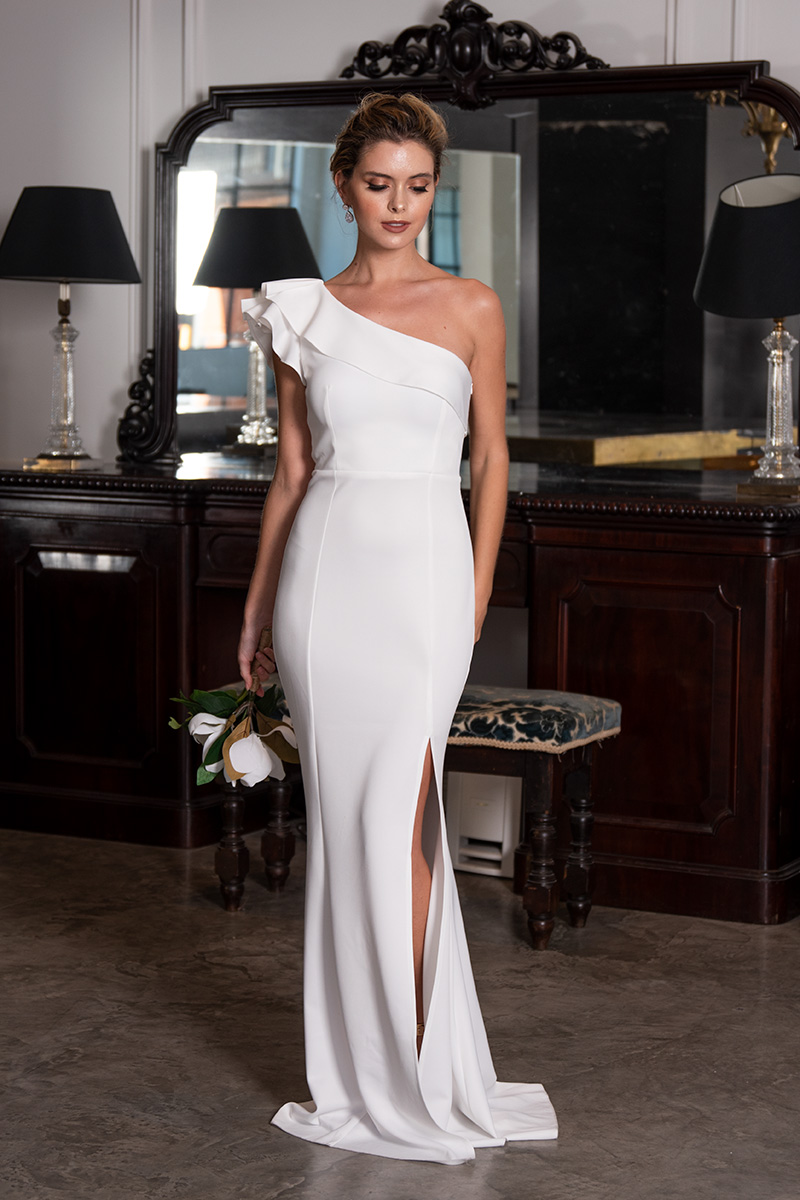 Straight out of an art gallery, a fitted gown like the Noami One Shoulder Ruffle Split Mermaid Formal Dress will make any bride feel like a sculpted goddess! Flirty ruffles on this stylish one-shoulder design soften the look while still giving an elongating and sexy silhouette that is finished off with a subtle mermaid skirt and a thigh-high leg slit. Be sure to keep accessories simple with this look and let the ruffles make the statement! The best part about this gown? This dress comes in at only $165!
Elegant Off-the-Shoulder Wedding Gowns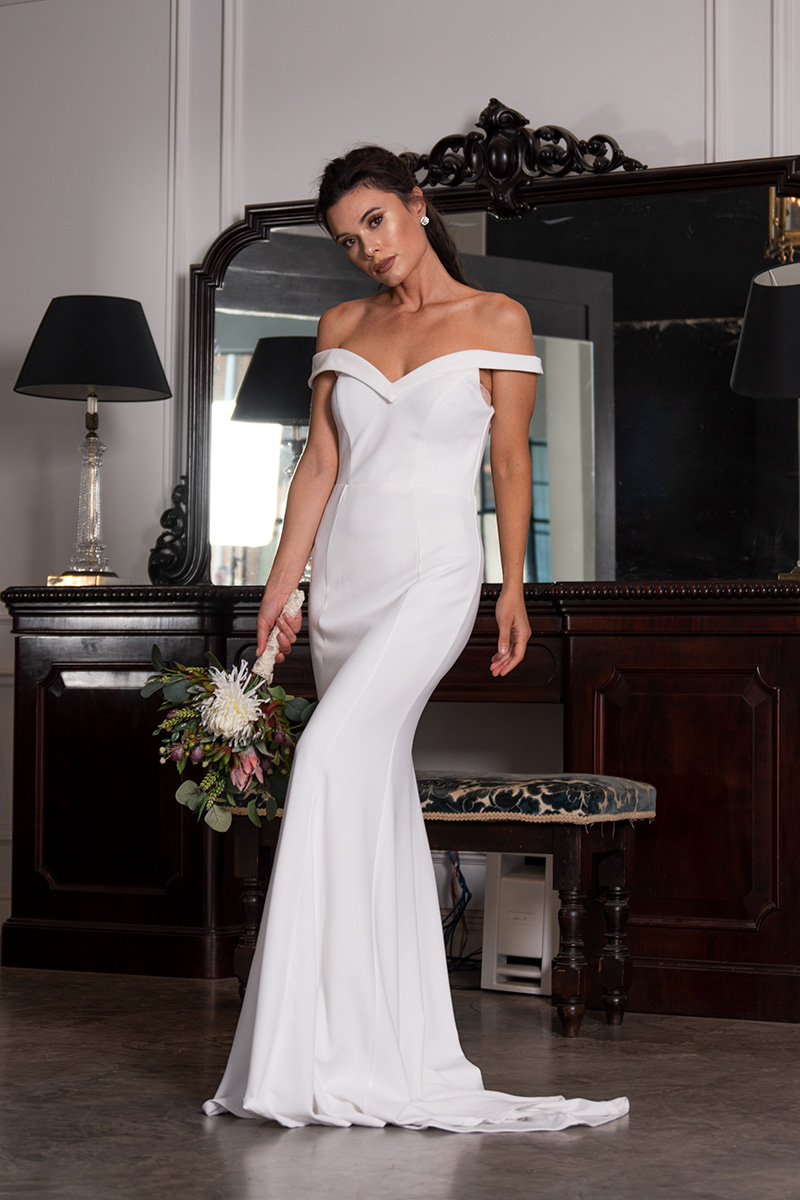 An off-the-shoulder mermaid-style gown is perfect for the bride looking for a figure-flattering number to wear on her big day! The Penelope Off-Shoulder Mermaid Wedding Dress in Ivory available for $199 is the definition of classic sophistication with its off-shoulder neckline that emphasizes the shoulders and collarbone. This wedding dress featuring a mermaid skirt and train is perfect for a glamorous ballroom wedding or even an outdoor estate wedding. It's the perfect combination of elegance and style!
How to Style a Formal Dress into your Dream Wedding Dress
Once you've found your perfect wedding gown, it's time to style it with accessories! While we want to keep your wedding dress the star of the show, picking out the right shoes, jewelry, headpieces, etc. will only enhance your bridal look. There are so many styles you can go with when it comes to accessories - glamorous, modern, boho, classic, the list goes on! So here are a few pieces of advice before making any purchases.
It's All About the Bridal Accessories
1. Match your Metals to your Dress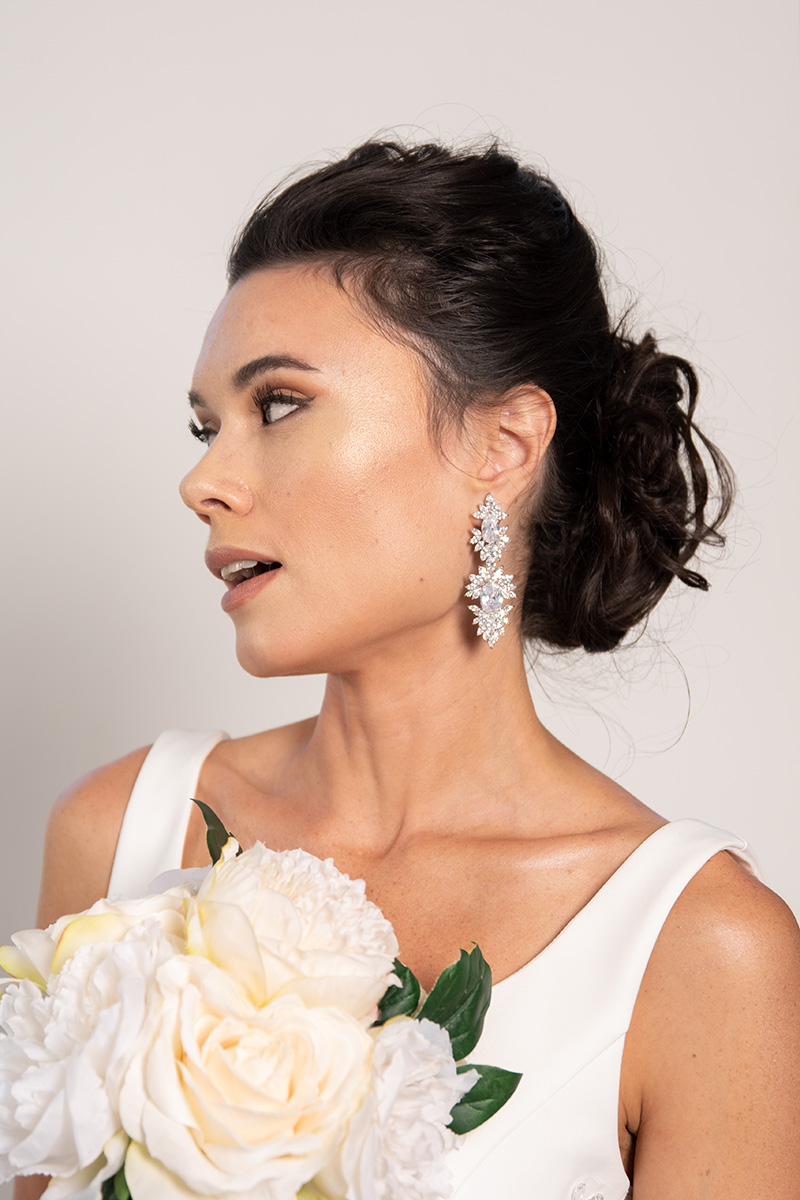 Did you know that some wedding dress colours pair better with certain metals than others? If your dress tends to lean closer to ivory, wear a beautiful gold earring like the Aurelia Gold Flower Statement Earrings. Gold compliments the creaminess of the ivory tones in the fabric. If your dress is closer to a true white, look for silver or pearl detailing like our Mika Crystal & Pearl CZ Bridal Earrings which have a little bit of both!
2. Less is More When It comes to Jewelry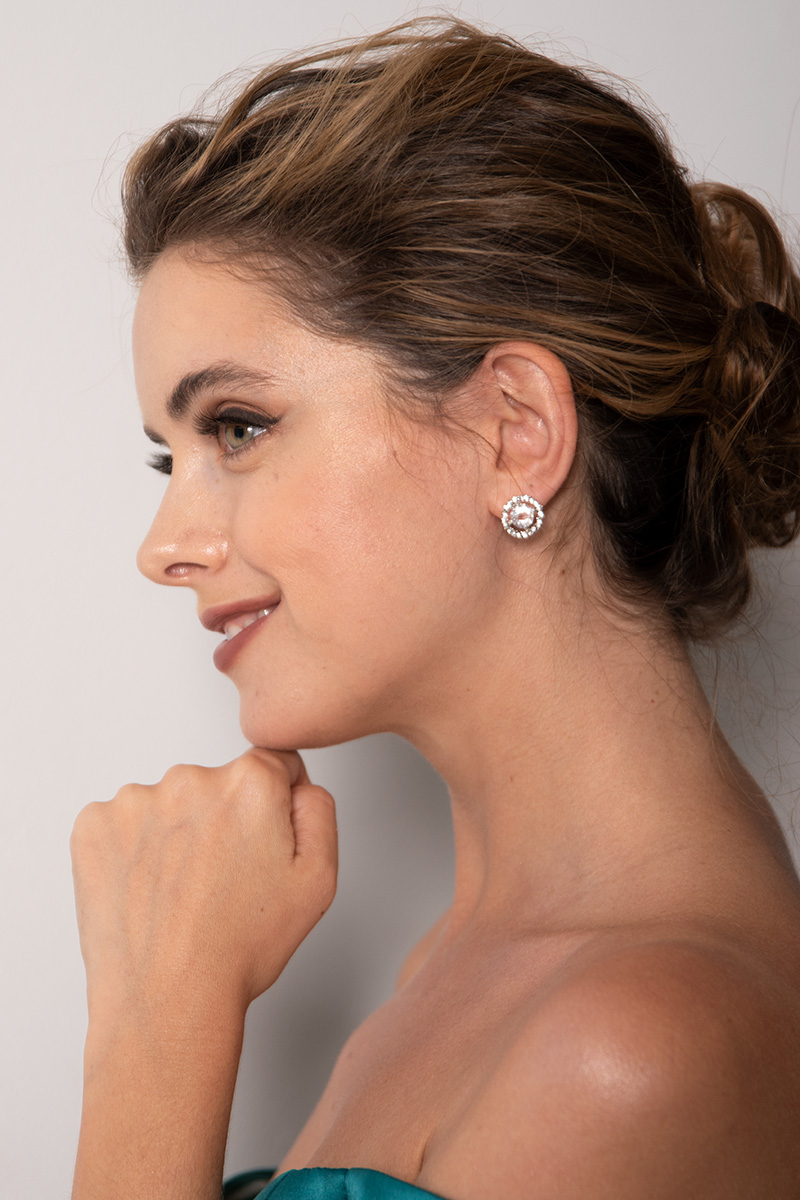 While you may have already started making a list of bridal accessories - you don't need a veil, necklace, earrings, bracelet, sash, belt, etc. to stand out. Instead, curate your jewelry choices based on what will look best with your wedding dress. For example, the Sienna Crystal CZ Bridal Earrings are considered statement earrings, this means that they would pair great with a gown like our Mia Embroidered Strapless Tulle Wedding Dress in Ivory that has a strapless, minimalist neckline to help draw the eyes up towards the face. For a gown with plenty of detail and a higher neckline like the Amber Sleeveless Sequins Mermaid Formal Dress in White keep it dainty and simple with our Liana Crystal CZ Bridal Earrings.

3. Stay True to your Personal Style
Although you want to keep the style of your gown in mind, we want to remind you that this is your day and your bridal look, you can style it however you please! If you want to add a pop of colour like our Ava Crystal Drop Statement Earrings, then go for it! Or if you want to make a stark contrast, choose an earring like the Elphie Black Drop Statement Earrings that add a moody touch to your look! Don't be afraid to go for abstract patterns or shapes if you're looking for an art contemporary-inspired look with the Mireia Silver Statement Earrings.
At the end of the day, you deserve to say yes to a dress (and accessories!) that makes you feel absolutely beautiful.
If you are looking for affordable wedding gowns and accessories, you can check out Model Chic Australia's new collection of wedding dresses perfect for your special day. Need more inspiration? Follow along on our Instagram page to stay up-to-date on upcoming new dress releases for the shop and to get inspired by some of our real-life brides!