Posted by Lauren H on 27th Aug 2021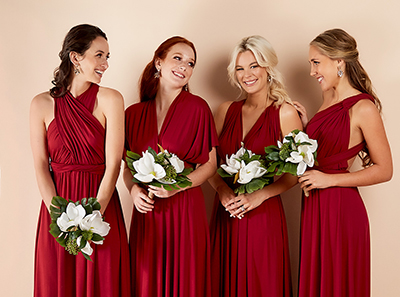 Formal dresses, especially for bridesmaids, have come a long way over the past few years. Many brides are skipping the traditional matching dresses for more unique hues and personalisations. But what if there was a way to keep your best maids looking perfectly matched while having their own unique mismatched touches? In walks the infinity dress!
The infinity dress, also known as a "wrap dress" or "multiway dress", will complement most body types for a formal dance, gala, or celebration. We especially love infinity dresses in Australia for weddings because every one of your bridesmaids can have individual straps that can be styled in multiple ways, allowing each and every one of them to feel beautiful and confident! It's all about embracing individuality. Ahead, you'll find our top tips for selecting and styling your bridesmaids in their infinity dresses.
How to Choose the Perfect Bridesmaid Dress Colour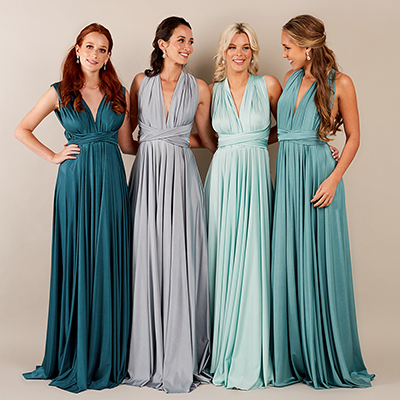 If you're aiming for an infinity bridesmaid dress, consider keeping with the tradition of having all of your girls in the same colour or hand-select two-three complimenting colours. By keeping the dress all one hue, while allowing for options in style and design, you're acknowledging that each bridesmaid has their own personality type and comfort level. They can pick their favorite style on how they wish to wear their multiway dress, but it keeps the colour palette cohesive and in your control. Leaving everyone comfortable and happy when they celebrate your big day!
Infinity Dress Ideas for Bridesmaids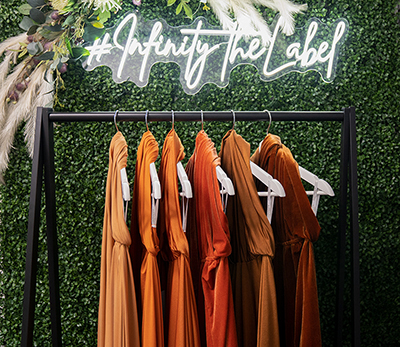 Model Chic Australia offers Infinity dresses in multiple gorgeous fabrics based on your venue, colours, and theme from classic jersey, luxe satin, and even velvet. These dresses can be simple, sophisticated, rustic, or even boho chic. So, whether you're hosting a black-tie fancy ballroom or a rustic barn wedding in the country, there is a convertible multiway dress that will work for you!
What makes it a perfect buy is these dresses can fit women of many different sizes. The waistband of the dress can easily stretch for Size 1 to fit AU 6-16 and Juniors 3-12 years. Size 2 is also available for AU 18-26! A matching tube top is also included free in your multiway dress order from Model Chic to provide more full coverage per everyone's personal taste as needed.
Classic Multiway Infinity Gowns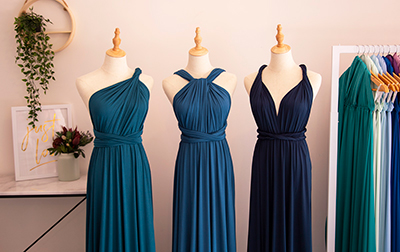 Our Classic Multiway Infinity Dress is made with polyester-spandex fabric that is both comfortable and sophisticated at the same time! The stretchy fabric flows so you can dance the night away! It comes with two long straps that can be twisted and turned in many ways to produce various styles. These versatile yet creative infinity dresses are perfect for outdoor or rustic-style weddings in the Spring or Summertime. Wear it to your next special event, whether it's your school formal, black-tie celebration, or even as a bridesmaid dress on your wedding day!
Luxe Satin Infinity Gowns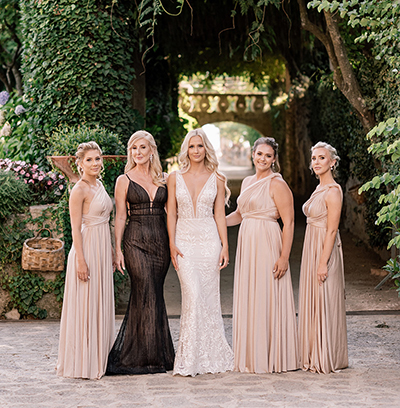 Our Satin Luxe Infinity Dress features our beloved luxe satin stretch fabric and is made with a full circle skirt. With adjustable ties, it wraps around the body to suit most body shapes and can be worn in so many different ways! We particularly love this fabric for our formal, black-tie weddings, and is available in classic colours like blush, dusty blue, and light gold. Like all of our infinity dresses, this convertible dress can be tied in an infinite number of ways, making it the ideal bridesmaid dress.
Velvet Infinity Gowns
Our Velvet Infinity Dresses are made with polyester-spandex fabric with a layer of velvet to give an extra dose of style, especially for a moody fall or winter wedding. The skirt includes show off the perfect pair of heels! This gorgeous fabric also comes in so many different colours including Copper, Dark Olive, Champagne, and more. Did you know that if you're unsure which velvet dress colour to select, you can order from our fabric samples that we have available to help you make a decision! Our most popular velvet colours include burgundy, emerald green, and blue velvet dresses.
Elegant Formal Dress Accessories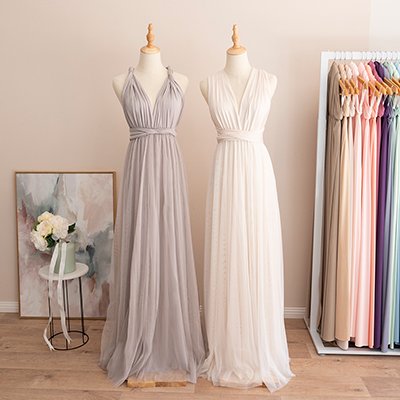 We love to accessorize our multi-wrap dresses with shoes, jewelry, and hairpieces, but did you know you can add a touch of elegance to your infinity dress with one of our add-on brooches or rings? Completely change the look of your bridesmaids or formal dress with our accessories - made just for our multiway dress collection. It's the perfect way to add a touch of bling and change up the look of your dress for every event you attend!
Or, simply add on a detachable lace or tulle overlay skirt over your infinity dress to create more volume and softness to any formal dress look. These overlay skirts were created to match our classic multiway dresses. Perfect the bride that wants to create a feminine, romantic silhouette for her bridesmaids.
How to Tie an Infinity Dress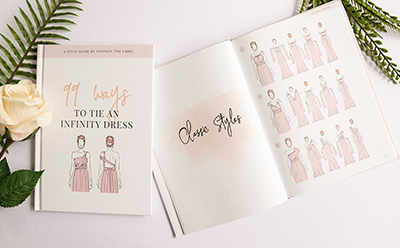 There are many, and we mean many, different ways you can style an infinity dress. You can wrap it up until a one-shoulder or x-back twist or wrap it around your torso for a stylish bodice. Or, you can drape the straps over each shoulder for a look with more coverage. You can even tie it in a bow for a feminine look. Or you can even wear it strapless!
It might be overwhelming to think about right now, which is why Model Chic Australia has a book of 99 Ways To Tie An Infinity Dress available for purchase on our website. You and your maids can look through this look to decide on a style that works for everyone, along with illustrated tutorials to help you bring it to life!
This chic dress trend is perfect for allowing you to highlight each one of your gorgeous bridesmaids and that she is wearing a dress that makes her feel great. So great creative with how you wear and style your gowns explore Model Chic Australia's infinity dresses to find your perfect fit.