Posted by Model Chic on 31st Aug 2023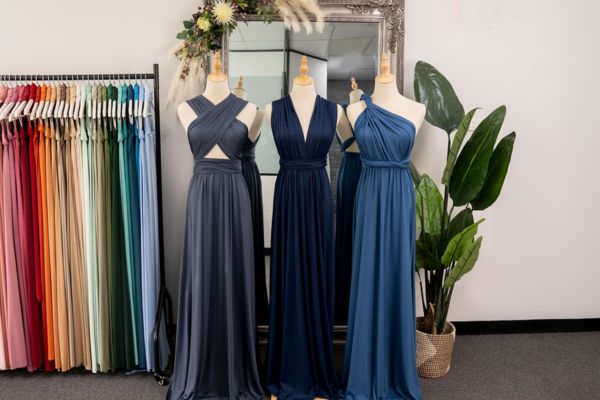 Hello to all the beautiful brides and bridesmaids Down Under! If you're on the hunt for the perfect bridesmaids dresses in Australia, you've stumbled upon a gold mine. Today, we're talking colours, moods, and dresses that'll make your bridal party pop like a bottle of bubbly.
The Importance of Colour
The colour palette you choose for your bridesmaid dresses sets the entire vibe for your big day. It's like the background music in a romantic movie scene: get it right, and the entire film becomes an Oscar-worthy spectacle.
Colour Psychology 101
Let's get into the nitty-gritty of colours:
-Rust Bridesmaids Dresses: Rust is warm, earthy, and reminiscent of autumn leaves. This hue is rich and offers a sense of grounded sophistication. Perfect for rustic weddings or outdoor ceremonies amidst golden foliage.
-Bright Bridesmaids Dresses: Think vivacious reds, electric blues, and bold yellows. Bright colours scream celebration! If you're planning a summer wedding or a beachy affair, your bridesmaids will shine brighter than the sun.
-Pastel Bridesmaids Dresses: Soft, romantic, and perfect for spring. Pastels bring a touch of whimsy to weddings. Imagine your bridesmaids adorned in soft lavender, mint, or peach, reminiscent of a painter's dreamy palette.
-Neutral Bridesmaids Dresses: Elegant, timeless, and versatile. Neutrals like beige, taupe, or soft grey suit any wedding theme and provide a classic backdrop against which other wedding colours can shine.
-Green Bridesmaids Dresses: Fresh, lively, and as varied as nature itself. From olive to emerald, green symbolizes growth and harmony – perfect for garden weddings. Some of our most popular green bridesmaids dresses include Khaki, Olive Green and Hunter Green.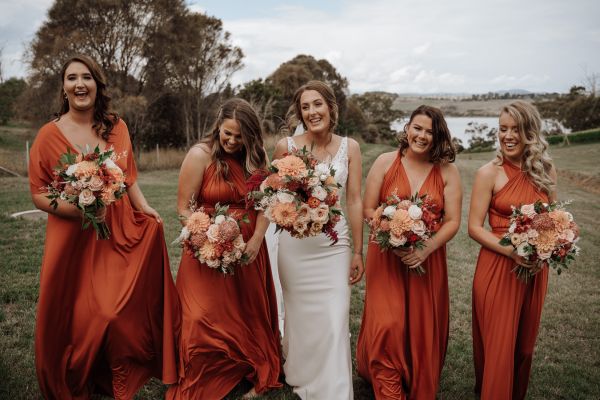 Infinity and Multiway Dresses: A Bride's Best Mate
While we're talking colours, we can't overlook the style of the dress itself. Infinity dresses and multiway dresses are the stuff of dreams for brides and bridesmaids alike. Why? Flexibility. One dress can be styled in endless ways to suit the individual tastes and body shapes of your bridal squad.
And if you've got a kaleidoscope of wedding themes or you're just an indecisive bride (no judgement here), these dresses are a godsend. Imagine one dress, tailored to fit the theme of various wedding scenarios - from sophisticated soirees to relaxed beach shindigs. The bonus? Your bridesmaids will genuinely thank you for a dress they can wear on repeat. Overwhelmed by all of the colour options? Order fabric samples to make choosing your dream colour an easy decision!
Coordinating with Your Wedding Theme
It's essential to ensure your chosen colour palette aligns with the overall wedding theme. Beach wedding? Dive deep into aqua blues or sunset oranges. Garden wedding? Frolic in pastel bridesmaids dresses or go lush with green bridesmaids dresses.
Remember, your bridesmaids' dresses don't just stand alone; they're part of a broader picture, complementing your gown, the décor, and even the wedding cake!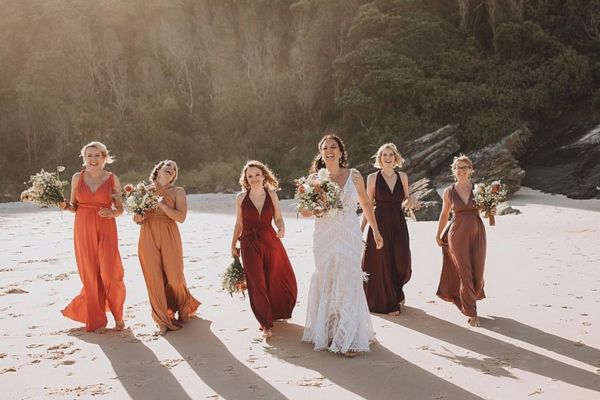 Mix and Match Magic
Who said all your bridesmaids have to wear the exact same shade? Today's bride is tossing traditions out the window! Don't be shy to mix neutral bridesmaids dresses with a dash of rust or bright hues. The contrast can be visually captivating and allows each bridesmaid to showcase a bit of her personality. Mixing and matching is made fun and easy by purchasing fabric samples of your favourite colours. Have your bride tribe over and let the fun with mixing and matching the colours!
Final Pearls of Wisdom
Choosing bridesmaids dresses in Australia can be as exciting as a kangaroo in a jumping castle. With the vast landscape of our beautiful country as inspiration, let the colours of the environment be your guide.
To all our Aussie brides and bridesmaids, here's to finding the perfect hue that makes your heart skip a beat. Whether it's rust bridesmaids dresses for a vintage vibe or bright dresses for a bubbly beach bonanza, paint your wedding with colours that tell your unique love story.
Cheers to love, laughter, and the pursuit of the perfect palette!