Posted by Lauren H on 3rd Nov 2021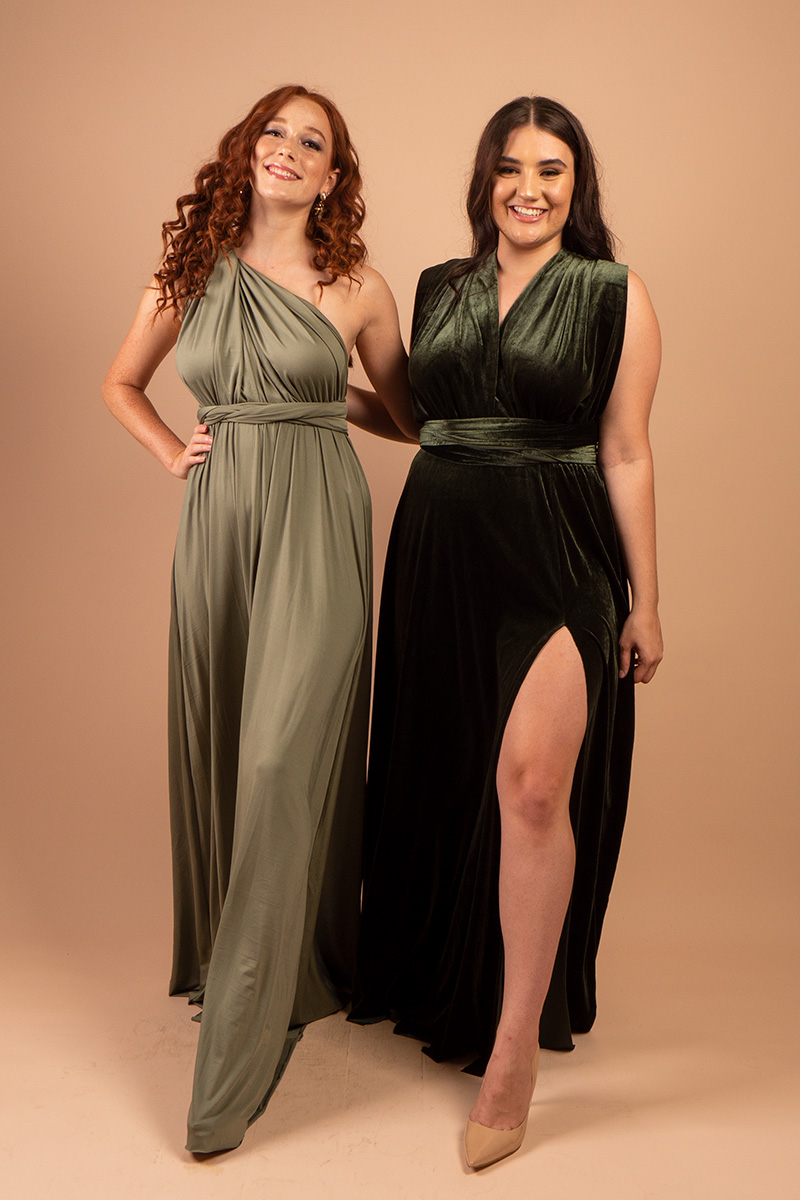 Choosing your bridesmaid dress colours is one of the most important tasks on your to-do list once you've booked a venue, decided on a theme, and said yes to your own dress, but it is not always an easy decision to make. If you're a fall bride or just love warm neutral aesthetic - then you should definitely consider one of the trendiest colours of 2021 - earth-toned bridesmaid dresses. Earthy tones include colours like burnt orange, copper, mustard, olive green, etc.
Picking bridesmaid dresses that fit this aesthetic is very simple to do on Model Chic Australia, which is why we created a guide featuring these popular bridesmaid dress colours, plus our favorite textures, tips, and even how to plan your colour scheme using swatches. Keep reading below to get inspired!
Find the Perfect Colour Scheme for your Bridal Party
First things first, when picking out what you're bridal party will wear: decide on the exact colour shades you want your bridesmaids to wear. While narrowing it down to earthy tones makes the buying process easier, we want to narrow it down to one to three shades maximum depending on the size of your bridal party.
Burgundy Bridesmaid Dresses
Burgundy bridesmaid dresses are a universally flattering shade and are a very popular bridal party colour for both fall and winter-inspired weddings. If you want an elegant, symmetrical look, have your bridesmaids wear identical floor-length dresses such as our Celine Embellished Shoulder Formal Dress in Burgundy.
Olive Green Bridesmaid Dresses
If you want a timeless bridesmaid dress look to feel timeless, a dark Olive Green is a sophisticated colour that works for both indoor and outdoor weddings. You can still give your bridesmaids individuality with a look like this by choosing our Multiway Infinity Dress that will allow you to select different necklines for each of your maids! Consider ordering your dark olive infinity bridesmaid dress in a a luxe velvet fabric for your infinity dress to create a more glamorous look!
Rust Orange Bridesmaid Dresses
Getting married in a forest type of setting? Make your bridesmaids make a statement against all the surrounding greenery by having all of your bridesmaids wear a vibrant burnt orange bridesmaid dress or even copper shade. Reds and oranges are the opposite of green on the colour wheel, so our flattering Classic Multiway Infinity Dress in Rustic Orange sure to look amazing on all of your bridesmaids!
Mismatched bridesmaids colours that work
You also need to decide if you want all of your bridesmaids to wear the exact same dress, which is the more traditional choice, or if you'd prefer a trendy mix-and-match bridesmaid look with different dress styles. You can create the most balanced bridal party by choosing two or three colours, and then have your bridesmaids pick dresses that are similar to each other in neckline, length, and fabric. For instance, the bridesmaids above are wearing our Velvet Multiway Infinity Dress in Copper (Left) and our Classic Multiway Infinity Dress in Rustic Orange (Right) that creates a mix-and-match look that makes each bridesmaid stand out while still looking completely cohesive!
While it may seem overwhelming, it is completely possible to make your wedding party feel cohesive even if each bridesmaid is wearing a different colour dress. One of the easiest ways to do this is by using earth tones: khaki, mustard, olive green, rust orange, burgundy, etc. are some of the most common colour options. They all come together seamlessly because these hues are all on the warmer side of the colour spectrum.
Compliment your styles with different patterns and textures
Next, you have to think about silhouettes, fabrics, and finally, colours that will flatter everyone's skin tones and body. Whether you want to play with patterns and textures is an extremely personal choice for each bride. If you are looking for a more sophisticated look, select dresses with luxurious fabrics like satin or velvet to achieve the most formal effect for a black-tie wedding. You can even take the glamour to the next level by picking out dresses with sequins and embellishments for extra sparkle.
If your wedding is more casual, let your bridesmaids select their own dress within your selected colour shade range. This will ensure you have the dress colours you want, while still empowering your girlfriends to select a dress that makes them feel their most confident and beautiful selves on your wedding day. This is the perfect option for a low-key wedding or for the bride that isn't very picky when it comes to selecting exact shades. Having your bridesmaids purchase from the same store, however, can help ensure that your shade range stays within a certain colour family.
Take advantage of fabric swatches
Choosing affordable bridesmaid dresses that will match your wedding vision is always easier when you can see and touch the different colour options for yourself in person. So that is why we offer affordable fabric swatches of our classic, satin, and velvet multiway infinity dresses. You can purchase as many swatches as you need for just $2 AUD per swatch and it's an amazing way to get a sneak peek of the dress before making a final decision on your online purchase.
You can show them to your bridesmaids to get their opinions on your colour options. Also, consider bringing your swatch choices to your wedding planner if you have one. Thye will be able to tell you if your picks will be a smart colour choice for your reception and may even be able to provide other shade recommendations or ideas that you would not of thought of before.
If you are looking for affordable, earthy-toned bridesmaid dresses and accessories, you can check out Model Chic Australia's wide variety of bridesmaid dresses perfect for your special day. Need more inspiration? Follow along on our Instagram page to stay up-to-date on upcoming new dress releases for the shop and to get inspired by some of our real-life brides!