Posted by Model Chic on 11th Aug 2023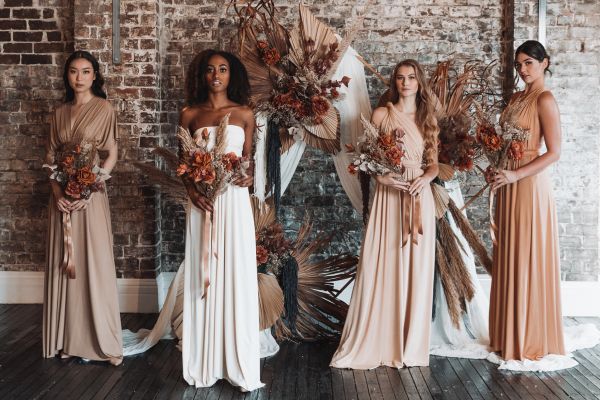 Hey there, all you stylish brides and bridesmaids out there! Your fairy gown-mother is here with the latest scoop on what's taking the bridal fashion world by storm. Ready to dive in? If you've been dreaming of the perfect ensemble for the big day (or helping your bestie decide), this guide's got the goods. From the classics with a twist to the outrageously avant-garde, here are the top 5 bridal and bridesmaid trends that are all the rage.
The Sleek and Minimalist Affair: Less is more, and the modern bride knows it. This trend speaks to brides who appreciate clean lines and effortless chic. And for the bridesmaids? Think silk bridesmaids dresses that flow seamlessly with a lustrous sheen, adding that touch of opulence. These dresses look especially luxe in candlelit evening ceremonies or swanky rooftop venues.
Romantic Flowy Details: Modern doesn't mean skipping on the romance. Bridal gowns with layers of tulle and intricate lace are evergreen, but now with a twist. The bridesmaids are joining in with flowy chiffon and lightweight fabrics that dance with every step. Perfect for outdoor weddings — beachfront ceremonies, garden parties, or vineyard vows.
Hello, Green: For the bridesmaids who are tired of the blush and champagne saga, green bridesmaids dresses are making waves. From sage to emerald, there's a shade for every season. Not only does green pop beautifully in photographs, but it's also a nod to nature for those eco-friendly weddings.
Plus-sized Beauty: The fashion industry is finally waking up to the beauty of every body type. Brands are introducing elegant plus-size bridesmaids dresses that flatter and celebrate every curve. These dresses are versatile and are crafted to make every woman feel confident and radiant. Be it a beach wedding or a grand cathedral ceremony; there's a style tailored for every scenario.
Infinity and Multiway Magic: Talk about a two-for-one deal! Infinity bridesmaids dress or multiway bridesmaids dress are all the rage for a reason. These dresses can be styled in various ways — one dress, multiple looks! Whether you're going for a Grecian goddess or a chic halter, this dress adapts. And the biggest benefit? Your bridesmaids can personalise their style to suit their comfort. Bonus: they can wear it again to another event, styled differently.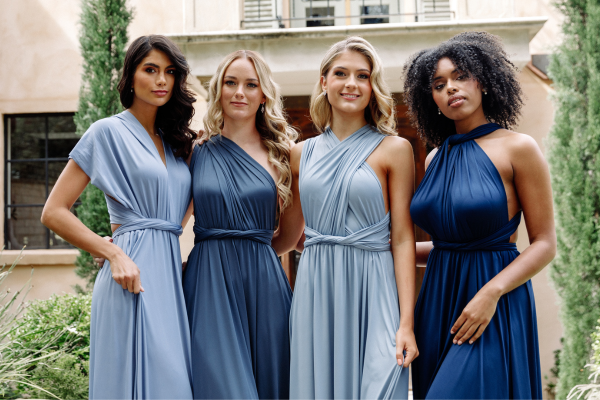 But Wait, There's More!
Apart from these scorching trends, here are some quick tips and benefits for the modern bridal party:
Mix and Match: Gone are the days when bridesmaids wore identical dresses. Mixing textures, styles, and even colours can create a cohesive yet eclectic look. Imagine silk bridesmaids dresses for some, while others rock a satin or lace number!
Comfort is Key: Modern bridesmaids dresses are all about comfort. Choose breathable fabrics, especially if you're having a summer wedding down under. And if dancing the night away is on the cards (as it should be), ensure the fit allows for those killer moves.
Think Future: Opt for dresses that the bridesmaids can wear again. The multiway bridesmaids dress is a prime example. It's not just a dress; it's an investment in future fashion adventures.
Inclusion Matters: Always consider the preferences and comfort of all your bridesmaids. If you've chosen green bridesmaids dresses, for example, ensure there are shades and styles that every bridesmaid loves.
Budget-Friendly: Remember, there are stunning dresses out there for every budget. From high-end silk bridesmaids dresses to affordable yet chic options, there's something for everyone.
In a nutshell, the bridal scene is bursting with fresh, exciting, and inclusive trends. Whether you're a bride-to-be or the trusty bridesmaid, the modern fashion scene promises a look that's memorable and, dare we say, Instagram-worthy. So go on, take your pick, and walk down that aisle (or dance floor) with confidence!