Posted by Model Chic on 7th Jul 2023
If you're tired of the same old one-style-fits-all bridesmaid dresses, it's time to discover the magic of the versatile infinity dress. In this blog post, we'll delve into the world of multiway dresses, explore various infinity dress styles, and show you how to achieve a cohesive yet individualized look for your bridal party. Get ready for a dose of practical tips and visual inspiration that will make your bridesmaid squad shine like never before.
Unleashing the Infinity Dress:
So, what exactly are infinity dresses? Imagine a dress that can be wrapped, twisted, and tied in countless ways, accommodating different body shapes and personal preferences. It's like having a dress chameleon that can transform to match each bridesmaid's unique style. Whether you're going for a rustic theme or dreamy pastel hues, the infinity dress is a game-changer.
Let's Start with the Basics:
Infinity dresses are typically crafted from soft and flowy fabrics that drape beautifully. They come with long, convertible straps that allow for endless styling possibilities. The best part? You don't need to be a fashion expert to create stunning looks with these dresses. With a touch of creativity and our handy tips, your bridal party will be radiating elegance in no time.
Introducing the Colours:
Now, let's talk about colours. We have a few trendy hues that are making waves in the world of bridesmaid dresses. Imagine your bridesmaids strolling down the aisle in gorgeous rust, dusty pink, or sage infinity dresses. These colours are simply breath-taking and add an Australian charm to any wedding. So, let's explore some styling ideas for each shade.
Rust Bridesmaid Dress:
Rust, the colour of the Outback, exudes warmth and offers a glimpse of stunning sunsets. An infinity dress in this earthy tone is an excellent choice for an Aussie-inspired wedding. To achieve a cohesive look, encourage your bridesmaids to experiment with different ways of tying the straps. They can opt for an elegant halter neck, a romantic one-shoulder style, or even a boho-inspired off-the-shoulder look. The possibilities are as vast as the Australian wilderness itself!
Dusty Pink Bridesmaid Dresses:
Ah, dusty pink, the colour of romance and femininity. This soft and dreamy shade is perfect for a whimsical wedding. With infinity dresses, your bridesmaids can go for a sweet and delicate strapless style, a sophisticated twisted halter, or even a chic cross-back design. The beauty of dusty pink is that it complements various skin tones, making it a popular choice for bridesmaids who want to feel like princesses.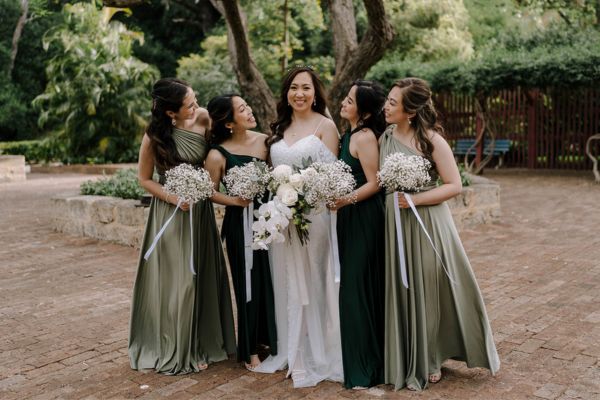 Light Sage Bridesmaid Dresses:
For an organic and fresh vibe, sage is the way to go. This earthy and calming hue brings a touch of serenity to any bridal party. With infinity dresses, your bridesmaids can rock a classic V-neckline, a trendy crisscross back, or an elegant one-shoulder look. The versatility of the dress style will make each bridesmaid feel like a goddess.
Bringing It All Together:
Now that you're familiar with the different shades and styles, it's time to achieve a cohesive yet individualized look for your bridal party. Here are some practical tips to help you along the way:
Swatch It Up:
Before diving into the world of infinity dresses, get fabric swatches of your chosen colors. This will help you visualize how they look together and ensure they complement your wedding theme. Fabric swatches can be easily ordered online or obtained from your local bridal boutique.
The versatile infinity dress is a must-have for Australian bridesmaids who want to break free from the confines of traditional bridesmaid attire. With their multiway design and endless styling options, these dresses allow each bridesmaid to showcase her individuality while maintaining a cohesive look. From the earthy elegance of rust to the romantic charm of dusty pink and the calming allure of sage, the range of colours available in infinity dresses provides the perfect palette for any Aussie-inspired wedding. By encouraging open communication, hosting a styling session, and allowing each bridesmaid to choose her preferred style, you'll create a bridal party that exudes confidence and radiates beauty. So, grab those infinity dresses, unleash your creativity, and get ready to wow the crowd with your stunning and versatile bridal party look. It's time to embrace the infinite possibilities of the infinity dress and make your Australian wedding a truly unforgettable experience!