Posted by Model Chic on 17th Aug 2023
Are you on the hunt for the ultimate bridesmaid dress to make your bridal squad look absolutely fab? Then you've landed in the right spot! From stunning shades to flattering fits, we've got the lowdown on all things bridesmaids dresses for our Aussie beauties out there.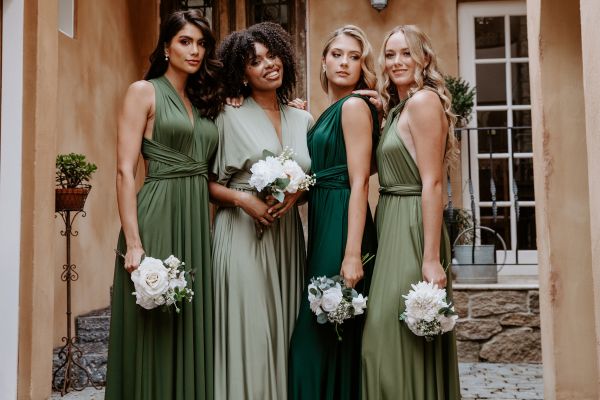 The Power of Colour
- Neutral Bridesmaids Dresses: The beauty of a neutral palette lies in its timeless elegance. Neutral dresses allow your bridesmaids to look harmoniously chic while ensuring the focus stays on you, the bride. They also provide a lovely backdrop for bouquets bursting with vibrant blooms. From champagne to classic white bridesmaids dresses, there's a shade that's sure to tickle your fancy.
- Sage Green Bridesmaids Dresses: Sage green has made a massive splash in the wedding world, and for good reason. Perfect for garden weddings or a breezy beach bash, this shade embodies a fresh, earthy feel, making your bridal party radiate natural beauty.
- Black Bridesmaids Dresses: Some may say it's bold, but we say it's brilliant. Black bridesmaids dresses exude sophistication. Ideal for evening weddings or glamorous affairs, they can be dressed up with sparkly accessories or pared down for a more understated look.
- Trending Bridesmaids Dress Colours: While sage green and neutrals are hot right now, keep an eye out for deep plum, dusty rose, rustic orange or royal blue, which are also making waves in wedding circles.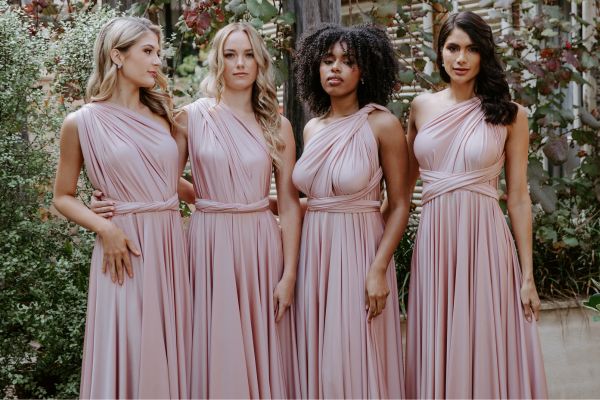 The Dress Types to Die For
- Infinity Bridesmaids Dresses: As the name suggests, the possibilities with this dress are endless! Infinity bridesmaids dresses, also known as multiway bridesmaids dresses, can be worn in numerous styles. Whether it's a halter neck, one shoulder, or strapless, this style accommodates individual tastes. It's like giving your bridesmaids a smorgasbord of options. Plus, you're getting multiple dresses for the price of one!
- Plus Size Dresses: Every bridesmaid deserves to feel beautiful and confident, regardless of her size. Thankfully, more brands are embracing body diversity. These dresses ensure that all your lovely ladies, from petite to plus size, have flattering options to shine in.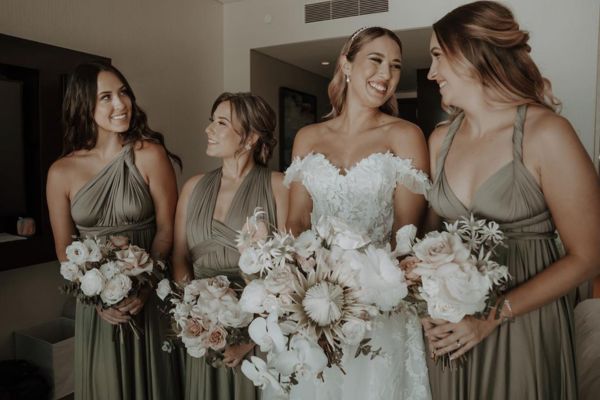 Handy Tips for a Smooth Shopping Experience
- Consider Personal Preferences: Remember, while it's your big day, it's essential to consider the personal tastes of your bridesmaids. Chat with them about their likes and dislikes. After all, a happy bridesmaid makes a happy bride!
- Think About Wearability: Let's be real, nobody wants a dress that collects dust after the wedding. Styles like multiway bridesmaids dresses offer versatility, meaning your gal pals might just rock that look at another event or party.
- Start Early: Start your bridesmaid dress hunt early. It gives you ample time to make choices, adjustments, and, if needed, returns. We recommend securing your dream bridesmaids dresses 8-10 weeks before your wedding day.
- Factor in the Weather: Whether you're tying the knot in sunny Queensland or chilly Melbourne, consider the season. Lightweight fabrics like chiffon are perfect for warm months, while satins and velvets are ideal for cooler climes.
Wrap-Up
There you have it! A whirlwind tour of the world of bridesmaids dresses. Whether you're gravitating towards sage green bridesmaids dresses or the endlessly versatile multiway bridesmaids dresses, remember that comfort, style, and a sprinkle of fun are the key ingredients for the perfect pick.
So, to all the lovely brides and bridesmaids across Australia, here's to finding that dream dress that makes you feel like a million bucks without necessarily spending it! Cheers!