Posted by Lauren H on 14th Oct 2021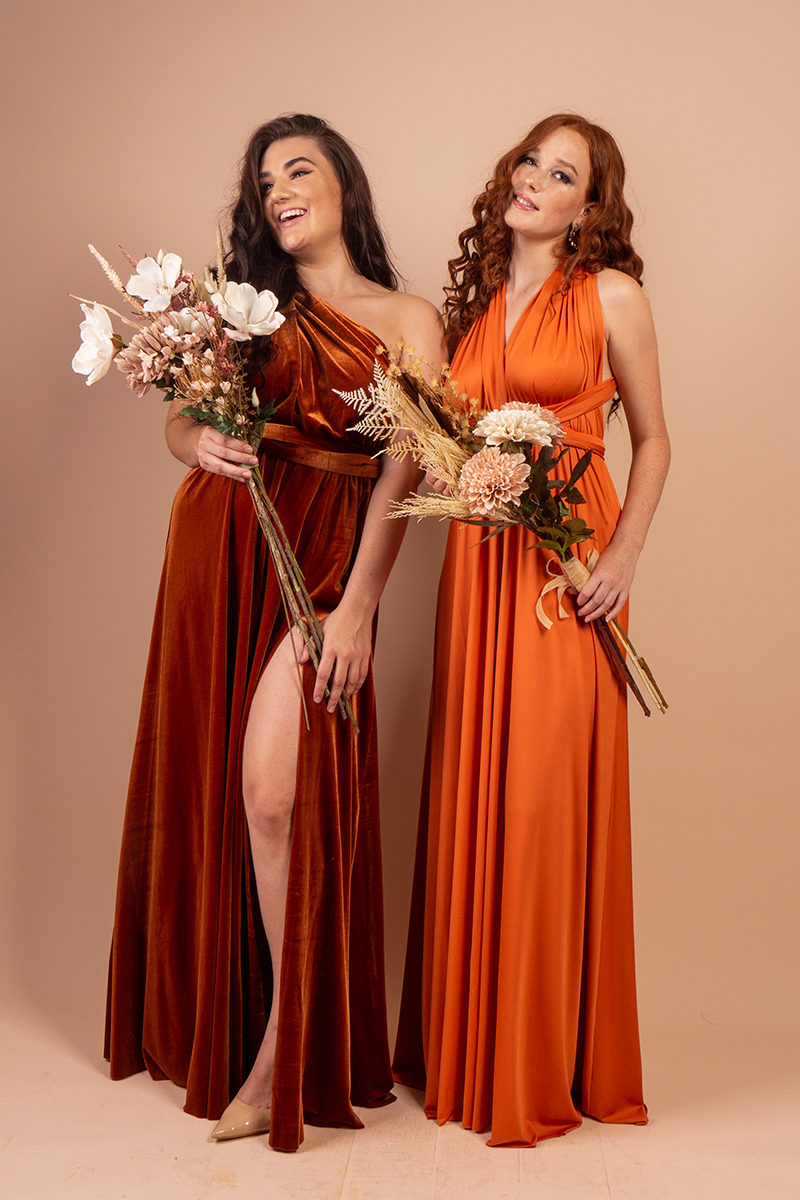 We've seen many bridesmaid trends come and go over the years, but one of our favorite styles is the mismatched bridesmaid dress look! Brides have come up with many unique styles featuring different hemlines, fabrics, and colour combinations that really make their bridal party stand out. What we love most about this trend is that it allows you to highlight each of your bridesmaid's styles and personalities in their dress, while also assuring she looks beautiful!
Deciding on the dresses themselves can present a bit of a challenge though! You want to make sure your affordable bridesmaid dresses still look cohesive to your colour scheme. Not doing so can result in a disjointed-looking bridal party. Ahead, we are covering everything you need to coordinate gorgeous mismatched bridesmaid dresses. Including how to pick the most popular colours, styles, fabrics, and accessories!
Find the Perfect Colour for your Bridal Party
The first step in choosing the perfect mismatched bridesmaid dress is deciding on a colour palette. The best thing you can do is keep it as simple (and budget-friendly!) as possible for your girls. You need to decide if you want to do one of the following:
Different Dresses, Same Colour
One of your dress options is having your bridesmaids wear the same colour but choose different styles based on their body type and personality. Having an assigned colour shade for your maids means you won't have to worry about one of them showing up with a bright red dress when you told them to pick a burgundy bridesmaid dress! It can make dress shopping much easier when everyone is on the same page about colour. Our favorite part about this choice though is that it gives your bridesmaids the choice to be comfortable and happy, while still appeasing your colour palette.
When searching for the perfect bridesmaid dresses on Model Chic Australia's website, we have a filter where you can pick the exact colour you are looking for. With plenty of styles, colours, fabrics, and textures to choose from, it will make selecting coordinating bridesmaid dresses in Australia an absolute breeze and one less thing for you to stress about!
Same Dress, Different Colours

A different take on mismatched bridesmaid dresses is having your colours in the same dress style and silhouette but change up the colours. This requires you to pay a bit more attention to the different colours and shade ranges. For instance, if you found a dress you love for your bridesmaids and want to obtain a mismatched look in the coral colour family. Pick out a complementary shade of light, medium, and dark Coral that creates an ombre effect.
For affordable bridesmaid dresses, you can find online, our line of multiway infinity dresses makes customizing styles simple while keeping your girls in the same girl. Essentially, the silhouette of the dress is universally flattering, but the neckline can be wrapped and transformed in many different ways including a halter neckline, strapless, short sleeves, twists, etc. so that everyone feels comfortable and confident!
Compliment your Styles with Different Patterns and Textures
Nail the mismatched bridesmaid dress look by mixing and matching different types of textures and fabrics that compliment your actual wedding dress and bridal style. Are you earring lace in your dress? Then maybe you want lace incorporated into your bridesmaid look. Or go with solid chiffon to compliment the lace without having "too much" texture in the pictures.
Think about the different types of textures and fabrics that fit right into your wedding theme, whether it's boho chic or black-tie sophisticated. You can mix velvet and satin for a luxe, elegant vibe. You can also mix lace and chiffon for a more rustic feel. A great way to do this is by pairing a dress like our Josephine Lace Sleeved Formal Dress and Claudia V Neck Bridesmaid Dress, both featured here in grey, that features slightly different textures but still looks cohesive when next to each other!
Or have your bridesmaids rock dresses with the same colour but different embellishments like sparkles, sequins, and appliques to give the dresses a 3-D effect as well as add more dimension and vibrancy to your bridal party photos! For example, the Kimora Sleeveless Sequins Tulle Mermaid Formal Dress paired next to the Short-Sleeved Tulle Sequins Formal Dress, both in Emerald Green would make a stunning combination that would look beautiful in photos while still making sense together.
Take Advantage of Fabric Swatches
A great way to examine and get a feel for dress colours is to order fabric swatches before making your final dress colour decision. This allows you to not only feel the fabric but really take a look at the colour without getting overwhelmed by a certain dress style or silhouette. This is especially important if you choose to go with different colour dresses. Consider purchasing multiple swatches to give to your bridesmaids so they can see the colour when dress shopping and everyone is not on the same page of what shade to purchase.
Get Creative with Complimentary Accessories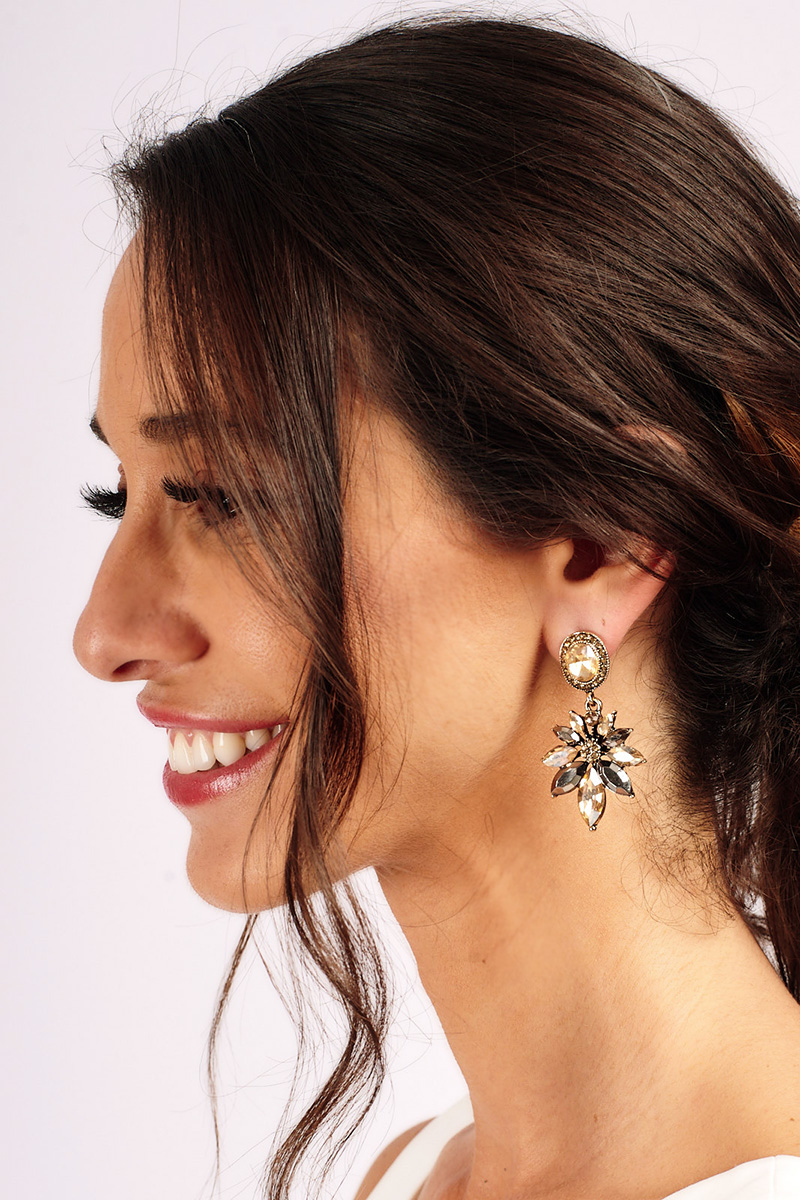 While focusing on mixing and matching alternating colours, styles, fabrics, silhouettes, etc. when it comes to your dresses. Ground the look with a design detail like your accessories that pulls everything together into one cohesive statement, like a great pair of beautiful earrings! Perhaps a set of simple yet classic sets like the Mika Crystal & Pearl CZ Bridal Earrings does the trick. Or, consider a stunning pair of statement earrings like the Ava Crystal Drop Statement Earrings for a fun, yet uniform accessory look. Did we mention that these make amazing bridesmaid gifts?!
If you are looking for affordable, online bridesmaid dresses and accessories, you can check out Model Chic Australia's wide variety of bridesmaid dresses perfect for your special day. Need more inspiration? Follow along on our Instagram page to stay up-to-date on upcoming new dress releases for the shop and to get inspired by some of our real-life brides!