Posted by Lauren H on 21st Jul 2021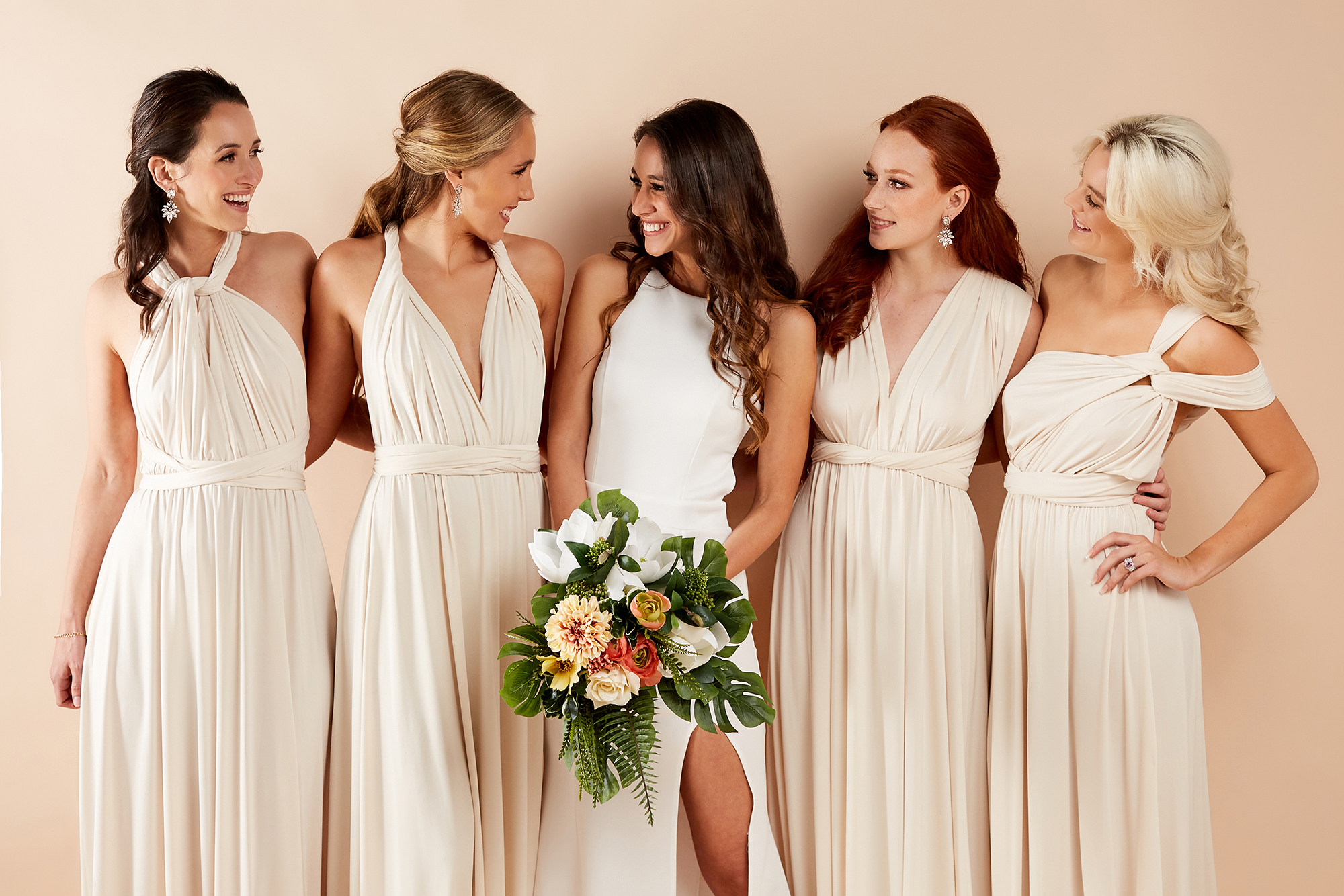 Shopping for bridesmaid dresses is such a fun and exciting time, but it can also be a bit overwhelming! On top of endless colour and style options, you also need to think about finding bridesmaid dresses that are affordable, universally flattering to different body types, and of course, match your wedding theme.
While this might seem like an impossible feat, we promise you it does not need to be hard! We've put together the ultimate guide that will help you simplify the online shopping process to find the perfect affordable bridesmaid dresses for all of your besties.
Keep reading below to learn how to shop for your girls, trending colours and styles, and how to order your bridesmaid dresses online. Don't forget as you get started, that shopping for your bridesmaid dresses should be a happy and memorable time for all involved!
When Should You Buy Your Bridesmaid Dresses?
Be sure to order your bridesmaid dress around six to eight months prior to your wedding day. This will ensure ample amount of time for shipping and delivery, returns/exchanges, fittings, alterations, and any other unexpected surprises along the way!
Why You Should Choose Affordable Bridesmaid Dresses
Traditionally, each bridesmaid pays for their own dress and accessories. However, in some instances a bride may choose to pay for all or part of the costs. Finances may be a sensitive topic for some of your bridesmaids, so consider sitting down and chatting with each of them one-on-one about their bridesmaid dress budget expectations to help you make a decision moving forward.
Once finances are settled and you have a sense of what each of your bridesmaids can reasonably afford, you can create an estimated budget on what you would like your bridesmaids to spend. There are plenty of bridesmaid dresses available at affordable price points that will look amazing on your bridal party!
Consider Dresses That Flatter All Body Types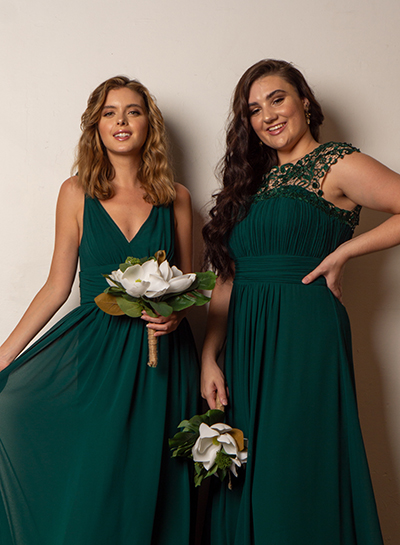 Take your bridesmaids' various body shapes into consideration when selecting the perfect colour and style that will be flattering on everyone! If you're having trouble finding one single dress that everyone loves, consider picking a specific colour shade range (like blush pink) and allowing your bridesmaids to select their own dresses. Be sure that they run their choices by you first before they go through with the purchase!
It's important to note that you should not forget to check with your retailer for plus size options and extended sizing to make sure the dresses can accommodate all of your bridesmaids and have them feeling their most beautiful. If your heart is set on a specific dress but maybe not everyone feels comfortable in it, you can consider getting custom alterations like cap sleeves, extra fabric in the neckline, etc. to help them feel more confident.
Which Colours are Trending in 2021?
As the world returns to normal in 2021, weddings and celebrations are back and better than ever. This means colour will be presenting itself in full force in the upcoming year. Need help narrowing down what dress colours you should choose from? Here are four of our chic colour picks:
Navy Bridesmaid Dresses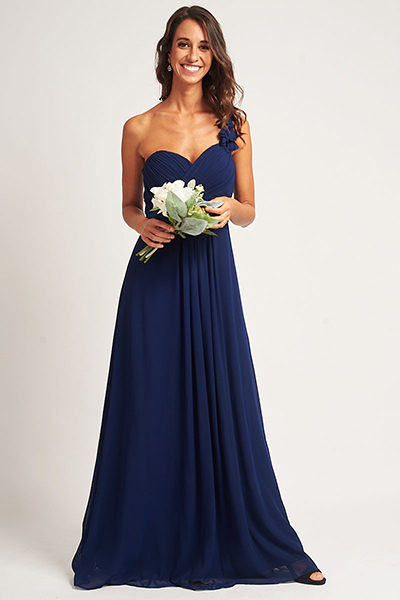 Christina One Shoulder Bridesmaid Dress
Who doesn't love navy bridesmaid dresses? The Christina bridesmaid dress retails for $119 and features an asymmetrical one-shoulder strap, making it perfect if you want your bridesmaids to sport a more modern look. We can already picture how gorgeous this gown would look at a formal, black-tie wedding. It's an elegant choice that can work for any time of year that is available in sizes XS - 3XL.
Pink Bridesmaid Dresses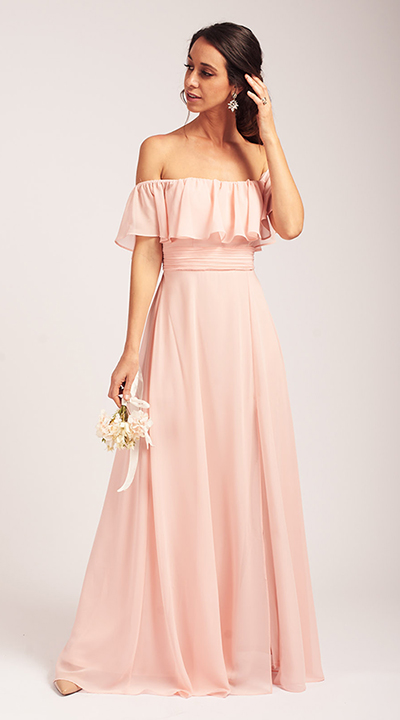 Isabelle Off Shoulder Flowy Bridesmaids Dress in Light Pink
If you ask us, pink bridesmaid dresses will never, ever, go out of style! Which is why we love our Isabelle Bridesmaids Dress in light pink so much. This dress is gorgeous and affordable, retailing for only $119 with sizes XS to 3XL. The ruffled, off-the-shoulder neckline and flowy chiffon skirt makes it the perfect evening gown for a spring garden or estate wedding.
Burgundy Bridesmaid Dresses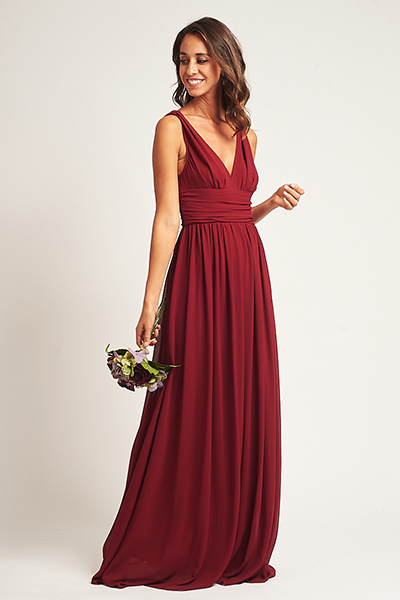 Claudia V Neck Bridesmaid Dress in Burgundy
With tulle short sleeves and a sequined lace bodice, this berry-coloured Kailyn Bridesmaid Dress retails for $145 and is available in sizes XS to 5XL. This evening dress is so romantic and showcases beautiful femininity for any body type. The flowy tulle skirt will sway beautifully all night long from the aisle to the dance floor!
Emerald Green Bridesmaid Dresses v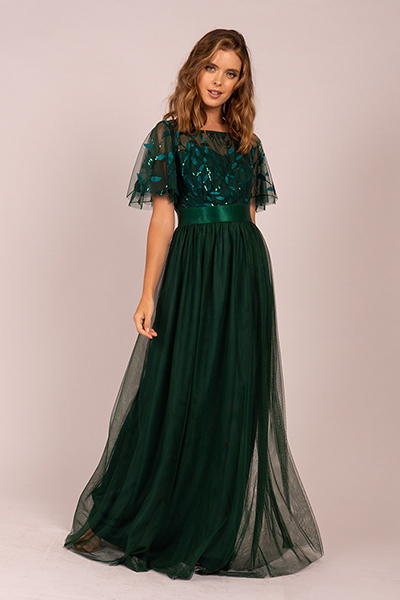 Kailyn Short Sleeved Tulle Sequins Formal Dress in Emerald Green
Hosting a fall or winter wedding? Consider a jewel-tone dress like our best-selling Claudia Bridesmaid Dress in Emerald Green! This V-neck bridesmaid dress is a classic style choice for your wedding day featuring head-to-toe chiffon fabric for just $119. It's flattering, comfortable and with sizes ranging from XS to 3XL, your bridal party is sure to love it!
How to Buy Bridesmaids Dresses Online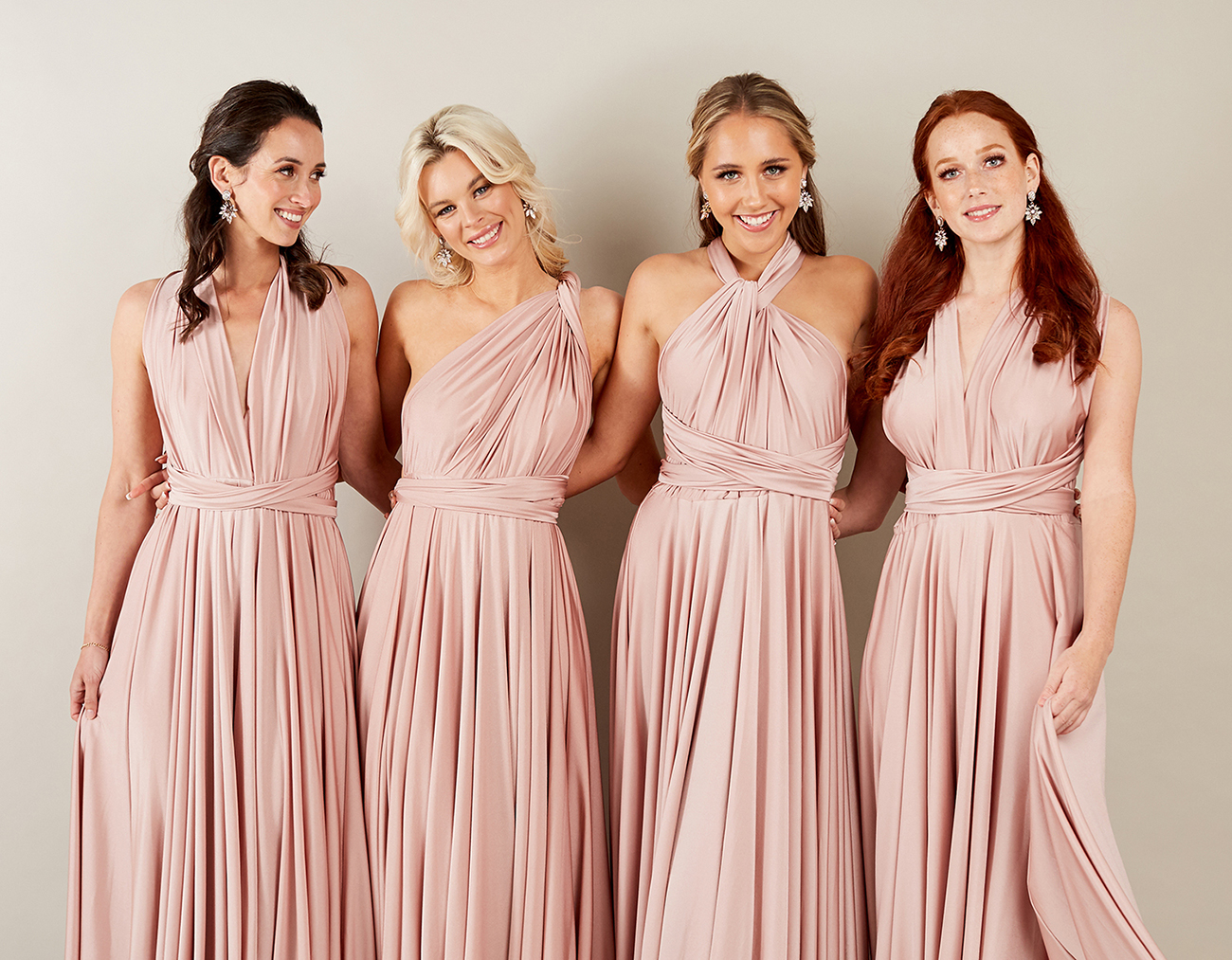 Thanks to online retailers, shopping for bridesmaid dresses has never been easier! Buying your dress online means you can shop whenever is most convenient for you. What's more, many online retailers offer special criteria you won't be able to find in-store, including unique colours, silhouettes, and extended sizing on dresses.
One of our favorite perks of online shopping for bridesmaid dresses in Australia? If you can't decide on a dress, you can easily order multiple sizes and styles and return what doesn't work for you. Model Chic also offers free shipping on all AU orders over $50. Did we mention you can also shop now and pay later with AfterPay?
If you have any questions or need help figuring out how to coordinate bridesmaid styles, questions about extended sizes, etc. Model Chic Australia has an easy chat with us option available on the website to assist you during your shopping experience.
Looking for more bridesmaid dresses in Australia? Click here to shop our complete line of bridesmaid dresses, evening gowns, and plus-size dresses.