Posted by Model Chic on 7th Feb 2023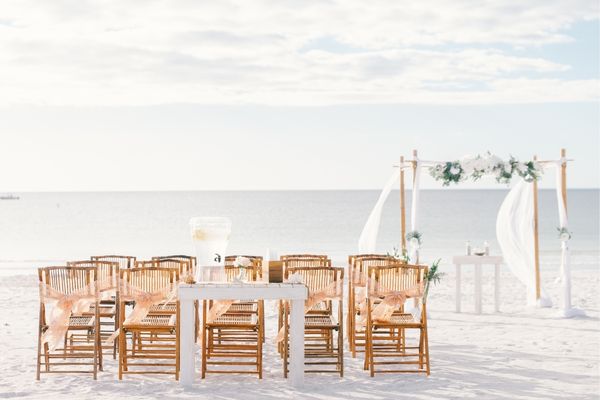 The beach is a beautiful place to get married, and many couples say "I do" to the sound of crashing waves in Australia and around the world. What's more, they tend to be budget-friendly despite the scenic backdrop, making them an all-around winner for bridal couples and guests.
While a beach wedding may appear picturesque, it can be challenging to pull off, especially when it comes to clothes. How do you dress for a beach wedding without looking too casual or feeling uncomfortable? Read our complete guide to choosing the best wedding guest dresses and accessories for a beach wedding below.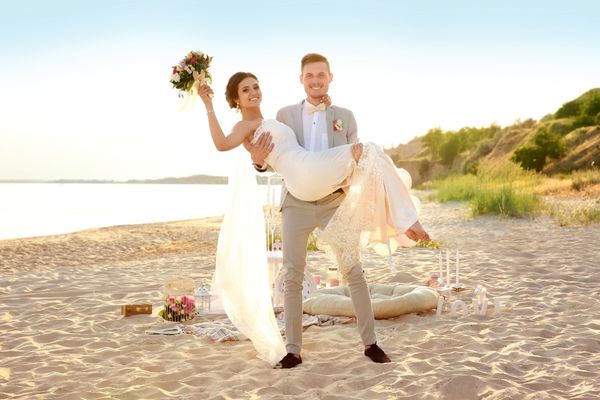 What To Wear for a Beach Wedding: Head to Toe Outfit Guide
Dress Style
Coastal weather can be unpredictable, and what might start as a still, sunny day can quickly turn windy when you're next to the water. Infinity or wrap dresses are perfect for the beach because you can change their style according to the weather.
Strappy sundresses are another practical option because they keep you cool and are easy to layer under cardigans and sweaters without bulking up around the arms and shoulders. Mid-length or maxi dresses are the safest choices for venues with a beachy breeze!
Dress Fabric
Beach weddings almost always take place in summer, so wearing a breathable fabric that keeps you cool is crucial for your comfort. Avoid clingy materials like satin or shiny polyester, which can be unforgiving around even the slightest layer of sweat. The best fabrics for beach wedding attire are cotton and linen - natural fibres that absorb excess moisture from your skin. Flowy fabrics, such as chiffon or viscose, are also ideal for keeping cool at breezy beach weddings.
Dress Colour
Light colours, such as pastel pink or powder blue, will keep you cooler during a seaside ceremony than darker hues, which tend to absorb heat. You can also try a bold colour like coral or turquoise if you want to add tropical flair to your beach wedding outfit. These shades photograph beautifully in bright sunlight and look vibrant alongside a blue horizon and white shore.
No other wedding style allows you to play with prints and patterns as beach weddings do. Wearing a floral sundress or bright yellow jumpsuit with bold leafy prints is perfectly acceptable for most beach weddings - so don't be afraid to play with colour!
Shoes
The biggest difference between dressing for beach weddings and indoor ones is your choice of footwear. Walking along the shoreline in stiletto heels hardly ends well, so opt for a pair of flats or wedges that will survive the sand. You can also wear dressy sandals that are easy to slip on and off, allowing you to go barefoot should the moment arise. Although beach weddings are usually quite casual, wearing thongs is never okay.
Accessories
Accessories are key to dressing up summer staples to make them wedding-worthy. You can wear dressier jewellery and dangly earrings to make a simple jumpsuit or sundress look more formal. The same goes for handbags - clutch purses can elevate almost any outfit. Beach weddings are also perfect for playing with chunky accessories and tropical-printed silk scarfs. Always remember to take a hat if the ceremony is outdoors to protect your skin (and foundation!) from the sun.
Hair
The best hairstyles for beach weddings are low-maintenance up-dos or half-ups with lots of natural texture. If your hair is curly, now is not the time to break out the flat iron - the wind and humidity will likely get the best of your look! Go for relaxed fish braids to reinforce the beachy theme, or wear flowers in your hair if you like the tropical look. Tying back at least part of your hair will help keep it out of your face if the breeze picks up.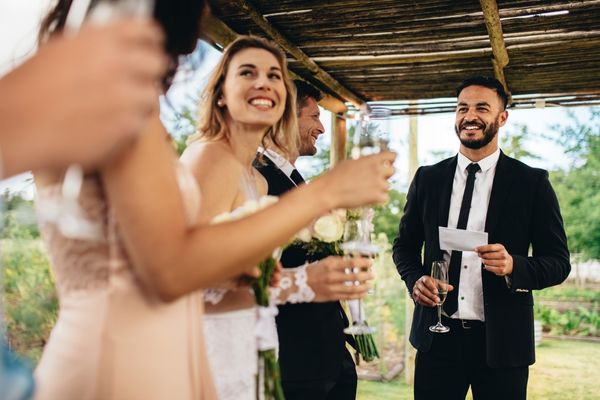 Casual vs Semi-Formal Beach Weddings
Some beach weddings come with a dress code - and not all are made equal. "Beach formal" and "beach casual" are two very different things with their own outfit rules. Here's how to dress for each, so you never arrive under or overdressed:
How to Dress for a Beach Formal Dress Code
Beach formal is similar to the semi-formal dress code for indoor weddings. Men usually wear suits in lighter colours, such as tan or powder blue, while women can wear mid-length dresses or jumpsuits with wedges or block heels. You can make your outfit look more formal by adding elevated jewellery and accessories and bringing a different pair of heels for the reception if it's indoors. Bright, bold colours are appropriate for formal beach weddings - remember to stay away from cream or white.
How to Dress for a Beach Casual Dress Code
Beach casual means wearing something that keeps you comfortable outdoors. This dress code typically means men can wear short sleeves shirts or polos with khaki or chino shorts, and women can wear flowy maxi dresses, jumpsuits, or dressy separates. You can skip the heels for a casual beach wedding and opt for a nice pair of sandals instead.
Model Chic offers a range of wedding guest dresses that will suit a sunny beach wedding. Our collection comes in dozens of colours and styles, and we ship across Australia -contact us for more information.