Posted by Model Chic on 6th Sep 2023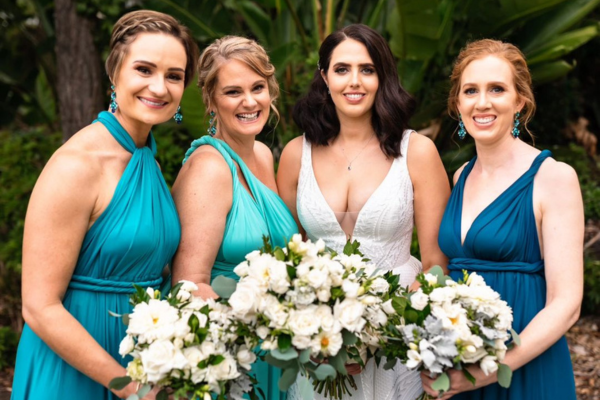 Hey there, all you lovely brides and bridesmaids-to-be! We know, wedding planning is a rollercoaster of excitement and just a wee bit of stress. Every bride dreams of a day that's as smooth as a waltz and every bridesmaid hopes to look like a dream without breaking the bank. Well, if you're on the hunt for the unicorn of bridesmaids dresses, we've got the scoop for you.
Infinity Bridesmaids Dresses
Why are Infinity Dresses the 'Beyoncé' of Bridesmaids Dresses? In the fashion world of bridesmaids dresses, if there was a chart-topper, it would be the infinity dress. Here's why:
1.Versatility is their Middle Name: Infinity, multiway bridesmaids dresses can be styled, twisted, and draped in more ways than you can count. Halter neck today, one shoulder tomorrow, and perhaps a cheeky strapless number for the after-party. The possibilities? Endless. Check out our 99 ways to tie an infinity dress book here.
2.One Size, Many Fits: Got a squad of diverse beauties? From petite pixies to gorgeous plus size dresses, the infinity dress embraces every body type. It's like that hug from your bestie - always fits just right.
3.Cost-Effective: Since they can be donned in multiple ways, these dresses are like buying several outfits for the price of one. Your bridesmaids can wear them long after the wedding bells have chimed. Talk about getting bang for your buck!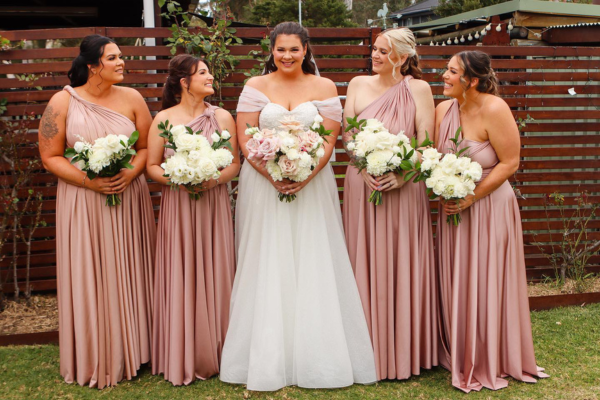 Styling the Perfect Infinity Dress
The best thing about infinity bridesmaids dresses is that they can be styled to suit the individual's personality. So, let's delve into some fashion-forward ways:
Classic Elegance: Drape it as a Grecian toga, and pair it with golden accessories.

Boho Vibes: Twist the straps into a halter neck, and accessorise with a floral crown for that bohemian flair.

Modern Chic: opt for an asymmetrical twist or a one-shoulder style, and you're red carpet ready!
Remember, there's no right or wrong here. Let your imagination run wild, and maybe even make a pre-wedding night out of it! Pop the champagne, play some tunes, and have a dress-twisting soirée with your bridesmaids.
Why They're Perfect for Any Occasion:
Infinity dresses are like that favourite lipstick of yours that goes with everything. They're adaptable for multiple occasions. Here's where you can flaunt them:
Wedding Bells: obviously! Whether you're in the bridal party or just looking to impress, you can't go wrong.

Date Night: draped right, it can be the perfect attire for a romantic dinner or a movie.

Girl's Night Out: go for a sassy, short look and hit the dance floor with your girls.

Sunday Brunch: opt for a casual, laid-back twist and pair it with some snazzy sandals.
The versatility of these dresses makes them a staple piece for any wardrobe.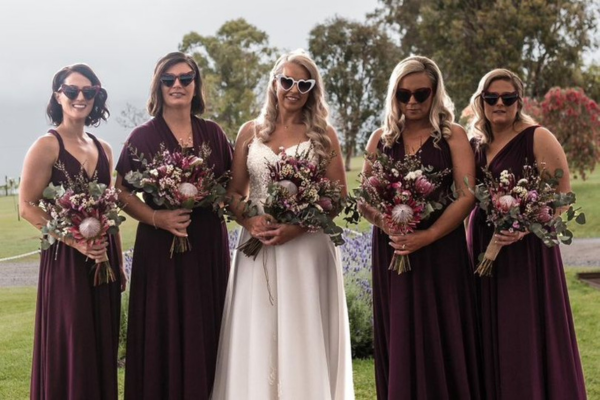 A Note to Our Beautiful Brides
We get it, your big day has to be flawless. But here's the deal: making decisions can be taxing. Choosing the Infinity Dress is not just about fashion, it's about making a choice that celebrates individuality and inclusivity. It's about ensuring that your bridesmaids, the women you hold closest to your heart, feel confident and gorgeous standing next to you. It's your day, but it's their day too!
Wrapping Up (or should we say, Twisting Up?)
Whether you call them infinity bridesmaids dresses or multiway bridesmaids dresses, one thing's for certain - they're a game changer. They bring ease, style, and affordability all wrapped up in one fabulous package.
So, to all the future brides and bridesmaids out there, remember: in the world of weddings, flexibility is golden. With these dresses, not only do you have a world of style options at your fingertips, but you're also making a choice that's inclusive and timeless.
Cheers to finding the perfect dress and to making memories that will last, well... infinitely!