Posted by Model Chic on 24th Jan 2023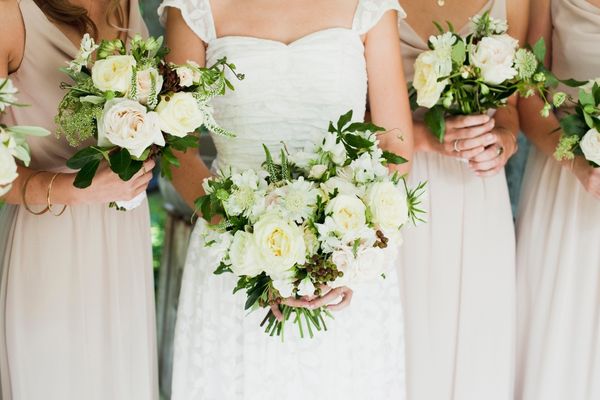 Your bridesmaids are more than your best friends - they're there to help you through the stress of planning your wedding and ensure the ceremony and reception run smoothly. They'll be fetching flowers, posing for photos, fixing your veil, and running errands in their dresses, so making sure they feel comfortable is a must.
Everybody's body is different, and we all have unique insecurities and fashion no-no's, which can be difficult to accommodate when choosing matching bridesmaid dresses. Luckily, if you have bridesmaids of all different shapes and sizes, they don't have to wear exactly the same dress!
Bridesmaid Dresses by Body Type
Dresses for Athletic Bridesmaids
An athletic figure doesn't necessarily mean you work out a lot - it often refers to a naturally sporty shape with even weight distribution. Ladies with a naturally athletic body type are often slender without an overly defined waist. Whether your bridesmaids have a naturally athletic shape or love hitting the gym, many dress styles will highlight their best features.
●Fit and flair or belted dresses are perfect for athletic bridesmaids because of their cinched silhouette that draws attention to the waistline. These styles can help gals who describe themselves as "straight up-and-down" create the illusion of a curvier figure.
●One-shoulder and halter necklines are an athletic bridesmaid's best friend! These dresses help you show off the toned arms, shoulders, and back you've spent hours working on in the gym. Halter necklines make your torso look longer, drawing the eye to the centre of your body and balancing broad shoulders.
Dresses for Curvy Bridesmaids
Curvy bridesmaids have full, feminine figures that they may want to show off with a dress that highlights their best features. Curvy ladies come in all sizes, but often appear less slender because of their full busts, hips, and thighs. Whether your curvalicious bridesmaids want to flaunt their figures or play them down, the right dress style will make them look and feel gorgeous.
●Empire waist bridesmaid dresses have a fitted bodice that ends just below the bust with a looser fit over the rest of the body, creating a high-waisted appearance. This style is flattering for anyone who wants to draw attention away from their waistline and make their bust look more pronounced.
●Wrap dresses are universally flattering, but they work especially well for showing off your curves! The flowing fabric is ultra-feminine and plays up a soft and curvy figure, highlighting the bust with a deep V-neckline.
Dresses for Petite Bridesmaids
Someone with a petite body type is typically shorter than most others, often with a smaller frame. If you're worried about being the only petite person in the bridal party, you can always look for dresses that make you look taller and don't forget about high heels! Some of the best bridesmaid dresses for people ladies elongate their figure and fill out their silhouette.
●Sweetheart necklines have a rounded shape that creates the illusion of a bigger bust, often flattering petite, small-busted bridesmaids. This neckline is soft and feminine and does not overpower a small frame, especially on a strapless dress with a fitted bodice.
●Dresses with high necklines are also flattering on people with a petite body type because they elongate your figure and accentuate your bust. Pairing a high neckline with a long hem creates a column silhouette that can make short bridesmaids look and feel taller.
Dresses for Bridesmaids With Large Busts
Having a large bust can be a blessing and curse when finding flattering bridesmaid dresses. If your leading ladies have fuller chests, they might need extra support to feel comfortable on the big day. We suggest choosing a dress style that accentuates the bust and creates a curvy, feminine silhouette.
●V-neck bridesmaid dresses give confident ladies with bigger chests the chance to flaunt their favourite features. You don't have to choose a plunging neckline that leaves everyone feeling too exposed. Instead, try a shallow V-neck that elongates the neck and balances a big torso.
●Bridesmaid dresses with thick straps or sleeves are a blessing for 'maids who need more coverage and want to wear a supportive bra under their gown. Choose delicate, flowing sleeves over puffed or ruffled varieties to make a large chest look slightly smaller.
Dresses for Pregnant Bridesmaids
Being pregnant at your best friend's wedding means even more cute photo opportunities! Pregnant bridesmaids will need a dress that makes them feel comfortable and relaxed throughout the festivities, and don't forget about choosing breathable fabric! Simpler designs are easier to alter, which is a must for growing mums.
●Empire waist dresses are perfect for expectant bridesmaids - they fit loosely around your baby bump and accentuate your bust. This comfortable and elegant style is the perfect option for bridesmaids over six months pregnant on the wedding day.
●Stretch fabrics - look for stretch cotton, jersey, or crepe when shopping for maternity bridesmaid dresses. These fabrics offer more flexibility and comfort, eliminating the need for costly (and stressful) last-minute alterations!
There are no rules when it comes to fashion. No matter your body type, you deserve to wear a dress that makes you feel confident and beautiful, especially as a bridesmaid. Model Chic offers a range of bridesmaid dresses across Australia in diverse styles and sizes -contact us for more information.