Posted by Model Chic on 22nd Aug 2023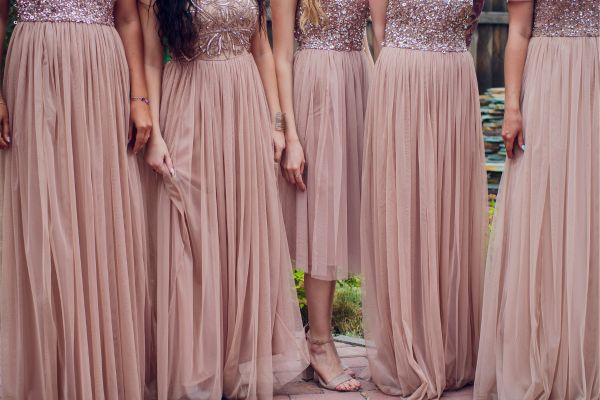 We know how momentous your wedding day is, and to make it even more special, every detail needs to be spot-on. Top of that list? Ensuring your bridesmaids look as fabulous as you do. How do you achieve that, you ask? With the perfect fit of their dresses, of course! So, whether you've gone with chiffon, velvet, or luxe satin dresses, this guide will navigate you through the alteration waters.
1. Understand the Importance of a Perfect Fit.
An ill-fitting dress can turn a Cinderella into a pumpkin real quick! A dress that fits well not only looks amazing but also ensures that your bridal party is comfortable and confident. It's not just about looking good in photos; it's about feeling fantastic throughout the day.
2. Common Alterations: It's Not As Daunting As You Think!
Hemming: Especially crucial if your bridesmaids are of varying heights. An A-line bridesmaids dress with a well adjusted skirt bottom flows beautifully and is less of a tripping hazard.

Taking in the waist: Whether you're catering to plus-size dresses or any other size, the waist area is crucial. An ideal fit here defines the dress and flatters the wearer's figure.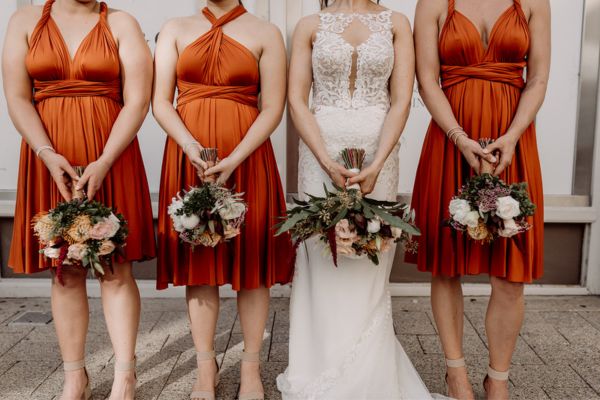 3. Dive into the Diversity of Bridesmaid Dresses
Infinity Bridesmaids Dresses: Talk about versatility! These multiway bridesmaids dresses can be styled in countless ways to suit individual preferences. So, if Jane loves a halter neck, but Lucy's all about the one-shoulder look, an infinity dress has got you covered.

Chiffon Bridesmaids Dresses: Light, flowy, and perfect for an Aussie summer wedding. These dresses offer a timeless elegance that makes them a favourite for many. A popular option is the

Claudia V Neck Chiffon Bridesmaids Dress.

Velvet Bridesmaids Dresses: Ideal for a winter wedding. Velvet exudes luxury and warmth, making sure your bridesmaids look hot while staying warm.

Luxe Satin Infinity Dresses: Shine on! The glossy finish on these dresses adds an extra touch of glamour to your big day.

Junior Bridesmaids Dresses: For the younger ones in the squad. They should be no less stylish than the rest!
4. Choosing the Right Dress for Different Body Types
Every woman is unique, and her dress should celebrate her individuality. Plus size dresses should complement curves, while multiway bridesmaids dresses can be styled differently to suit various body shapes. Always remember, it's about enhancing what you have and feeling your best! Check out the Infinity Dress for an option that allows your bridesmaids to feel comfortable and show off their own personal style!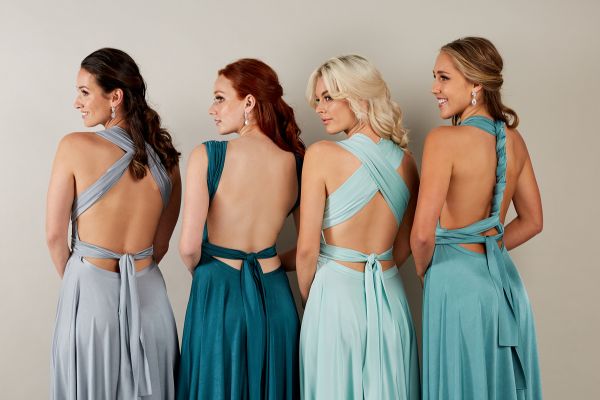 5. The Magic of Working with a Professional Seamstress.
Remember the fairy godmother in Cinderella? That's basically your seamstress. They understand the intricacies of materials, whether it's the delicate chiffon bridesmaids dresses or the rich velvet ones. Provide clear communication about what you want, and trust them to transform a dress into THE dress.
Whether you're getting married surrounded by the vineyards of the Barossa or having a beachfront wedding in Byron Bay, the right dress can make all the difference. And with the right alterations, every bridesmaid can look and feel her best. So, don't let a little thing like an ill-fitting dress throw shade on your special day. Take a deep breath, maybe sip a bit of bubbly, and embark on this exciting journey to find the perfect fit.