Posted by Model Chic on 15th Aug 2023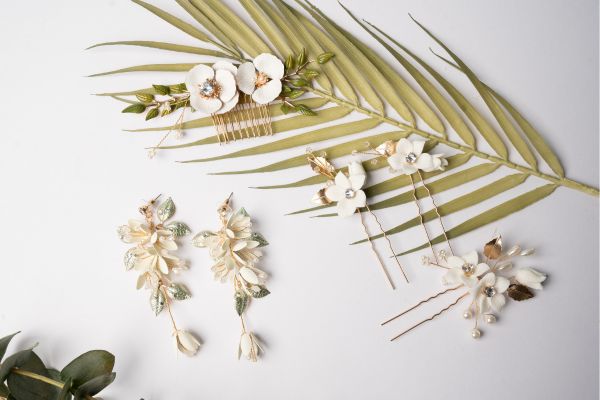 Calling all brides and bridesmaids! We're about to embark on a delightful journey into the world of bridesmaid accessories. Because let's face it, while the bridesmaids' dresses set the stage, it's the accessories that make the encore performance truly memorable.
Dive into Bridal Jewellery
When we talk about bridesmaid accessories, the first thing that comes to mind is often jewellery. Bridal jewellery isn't just about the bride – it plays a significant role in enhancing the bridesmaids' look too. Think of bridesmaids' earrings as the twinkling stars in the bridal night sky. They're subtle, but oh, do they shine! From delicate studs to cascading statement earrings, they're the little glimmers that catch the light in every wedding photo.
Up the Hair Game with Bridesmaids Accessories
A hairstyle can make or break a look, but it's the accessories that seal the deal. Whether your bridesmaids are flaunting beachy waves or chic buns, hair pins, hair combs, or even chic bridal headbands can be game changers. And for those chillier Australian weddings down south or the relaxed beach weddings up the coast, consider adding bridesmaids' robes to the getting-ready process. Not only are they uber-cosy, but they also make for some fab pre-wedding photos.
Infinity Bridesmaids Dress Accessories – A World of Possibilities
Now, here's something for the bridesmaids who love to flaunt their individuality. Infinity bridesmaids dress accessories. These little wonders like buckles or brooches give the classic infinity dress its name, allowing for endless styles. Whether your bridesmaid wants a twist-back, halter, or one-shoulder style, it's the accessories that make it really unique.


Tie-ing it Together with Groomsmen
Now, while we're all for letting the bridesmaids shine, we can't leave the groomsmen in the shadows. Coordinating bridesmaids dresses with groomsmen ties & bowties is like pairing wine with cheese – sublime when done right.
For instance, if your bridesmaids are donning a soft blush, a navy or charcoal tie can set a striking contrast for the groomsmen. And if you're feeling a tad more adventurous, how about matching pocket squares with the colour of bridesmaids' earrings? The devil's in the details, after all.
Complementing Individual Styles
Every bridesmaid has her unique style, and it's essential to honour that. One might rock those teardrop earrings while another feels more herself in a vintage stud. Remember, comfort translates to confidence. So, when selecting accessories, keep in mind the personality and preferences of each bridesmaid.
An excellent way to do this is to set a theme and let them choose within that parameter. For example, if you're going for gold-toned bridal jewellery, let each bridesmaid select the design of her earrings. This ensures uniformity without compromising individuality.
Final Thoughts
Look, we get it. Planning a wedding can feel like you're juggling a thousand baskets – it's tricky, and there's a lot going on. But when you see your bridesmaids walking down the aisle, each glowing in her uniquely accessorised ensemble, you'll know every detail was worth it.
Never underestimate the power of accessories. They're not just additions; they're the final touches. They bind the entire theme, elevate the ensemble, and bring out the best in every bridesmaid.
So to all the fabulous Australian brides and bridesmaids gearing up for the big day – here's to the details, the accessories, and the picture-perfect memories you're about to create. Cheers!