Posted by Lauren H on 13th Aug 2021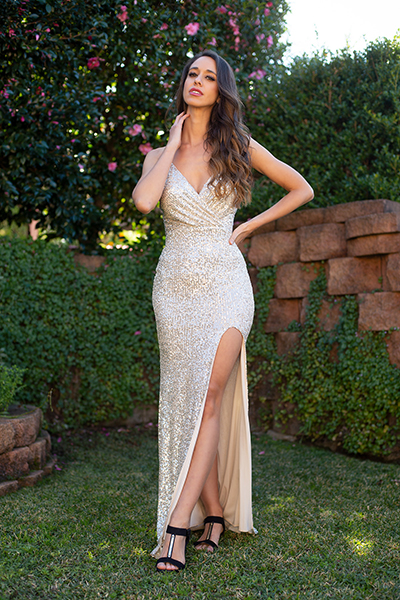 Get excited! Your high school formal is coming up! Starting to think about the type of dress you want to wear? Formal dresses feature all types of details and embellishments based on your style and colour preferences. And there are plenty of options to choose from! Formal dresses in Australia come in a variety of lengths, sizes, and colours.
Whether you are searching for a fitted mermaid dress, a tulle ball gown, or an elegant one-shoulder gown, there is a dress for you, but it doesn't need to be overwhelming and stressful. Finding your formal dress is an exciting and fun process. Read below to get our trendy formal dress ideas to wear at your next high school formal:
How to choose the perfect dress for your school formal?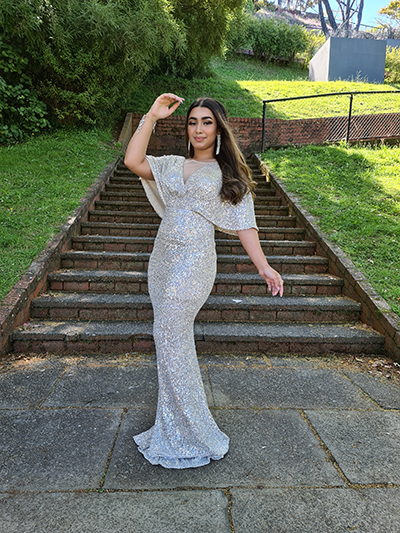 @sweetttpotato wears our Joanna Dress
First let's talk about the basics when deciding on your dream formal dress. You will want to consider three major factors when narrowing down your options:
Dress Colour
You can find formal dresses in a variety of colours, shades, and patterns. One way to narrow down your choices is by choosing a colour that compliments your skin tone and hair colour. For instance, redheads might lean towards a selection of dresses in jewel-tones or shades of green, blue, and purple, while blondes look for dresses with pinks, red, and metallics. And of course, dark hair can usually be worn with nearly any colour.
Also consider your skin tone! Certain tones and shades of bright colours, neutrals, pastels or jewel tones may complement your colouring better than others. For instance, someone with fair to light skin may feel washed out by warm colours like red, orange, and yellow while someone with tan or dark skin might glow. Regardless, you want to make a dress that makes you happy, so don't feel you "have" to avoid or wear certain colours to look and feel your best!
Style & Length
When choosing your school formal dress style, think about how you want the style, fit, and length of the gown. If you picture yourself dancing the night away, you may want to choose an A-line dress or one with non-restricting materials for movement and straps for chest support. If you plan on socializing and staying further away from the dance floor, try a mermaid gown or fitted dress.
For curvy body types and plus-size dresses, look for a gown with straps or sleeves for added support and style. If extra support is on your list-of must haves, try a halter evening dress or one with adjustable straps. If you are petite, find a formal evening dress that creates an illusion of height. Wear a shimmery rose gold or silver that brings the eyes up and adds extra volume. At the end of the day, just be sure to pick a style that makes you feel comfortable and confident.
Dress Theme
When selecting the perfect formal dress, considering the theme is a fun way to help decide what to look for! If your school formal theme is "A Night Under The Stars," a shimmering deep midnight or navy blue gown or classic black dress would be a beautiful choice. Intricate beadwork, Animal print dresses, multiple layers of fringe or ruffles, and faux-fur or feather accents would "be wild for a "Jungle" theme. If your theme is "Under the Sea", a shiny mermaid evening dress with sequins or a beautiful long chiffon maxi dress will set the tone. Whatever your school formal theme, consider wearing special colours to coordinate your school formal dress pick to theme. Did we mention this will also elevate your formal pictures?
Latest Formal Gowns catalogs 2021
Looking for more formal dress inspiration and examples? Here's a few of our Model Chic Australia dress picks:
Kendall Sequins Off Shoulder Split Mermaid Formal Dress in Navy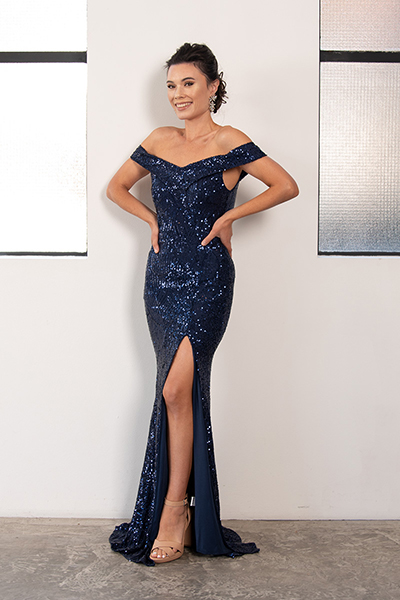 Whether your formal is under the stars or under the sea, our Kendall Sequins OffShoulder Split Mermaid Formal Dress in Navy will have you sparkling like the night sky. Kendal comes in a mermaid silhouette featuring a sweep train finish that will look gorgeous in photographs.Compliment the style with a sparkly couture clutch and hoop earrings for an elevated formal aesthetic.
Tahlia One Shoulder Sequins Drape Formal Dress in White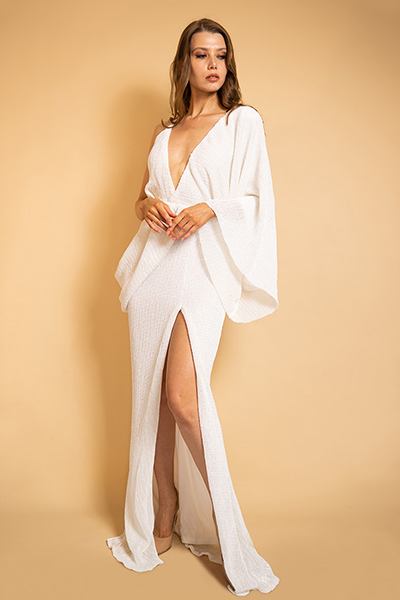 If you've dreamed of looking like a greek goddess at your high school formal, then this is your dream dress! The Tahlia One Shoulder Sequins Draped Formal Dress is an all-white evening gown with a deep V-neckline, draped sleeves, and a leg slip. Light up the room in this wonderfully decorated formal dress. For this look, accessorize in plenty of gold! A long gold clutch on a matching gold chain, a long, deep necklace, and nude or gold heels will help complete and elevate your look!
Lola One Shoulder Playsuit Formal Dress in Emerald Green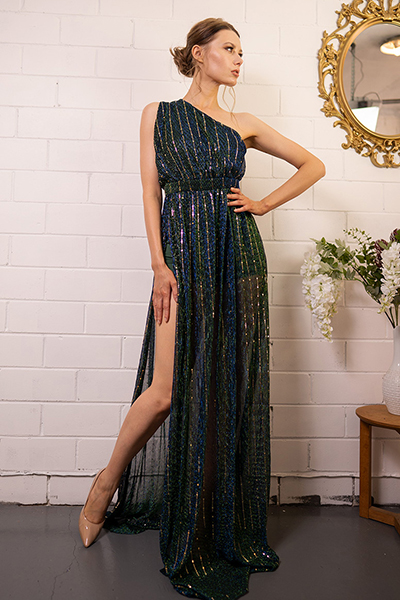 Those with red hair or pale skin will be absolutely glowing in our Lola One Shoulder Playsuit Formal Dress at an Old Hollywood Glam-themed formal. This emerald green dress has all of the glitz and glamour you need with lavish beadwork, asymmetrical one-shoulder neckline, and a sweeping train that dazzles. Pair this look with a bold red lip and drop earrings to complete your elegant ensemble!
Kaliyah High Split Sequins Formal Dress in Copper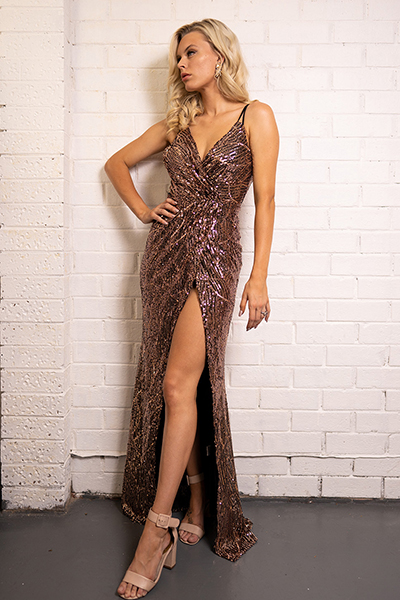 Talk a walk on the wild side with the Kaliyah High Split Sequins Formal Dress. We adore the copper shades of this gown for a jungle-themed formal as its beadwork almost looks like animal print without being "too much" while complimenting nearly all hair and skin tones. Wear this dress with a pair of statement hearings and nude heels for a striking formal look.
What should you wear to your school formal?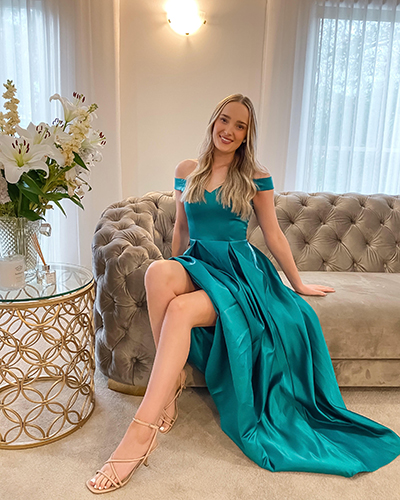 @lianagrounds in our Belle Dress
Elegant, colourful, glamorous, classic, or something else, the perfect formal dress for you is the one that you feel confident and beautiful. Each person has unique style and taste when it comes to dresses and that's ok. No matter what, choosing a school formal dress should be a fun and joyful experience for you, so feel free to get creative and explore Model Chic Australia's formal dresses to find your perfect fit.